Buy your PuttOut product HERE to claim your exclusive offer!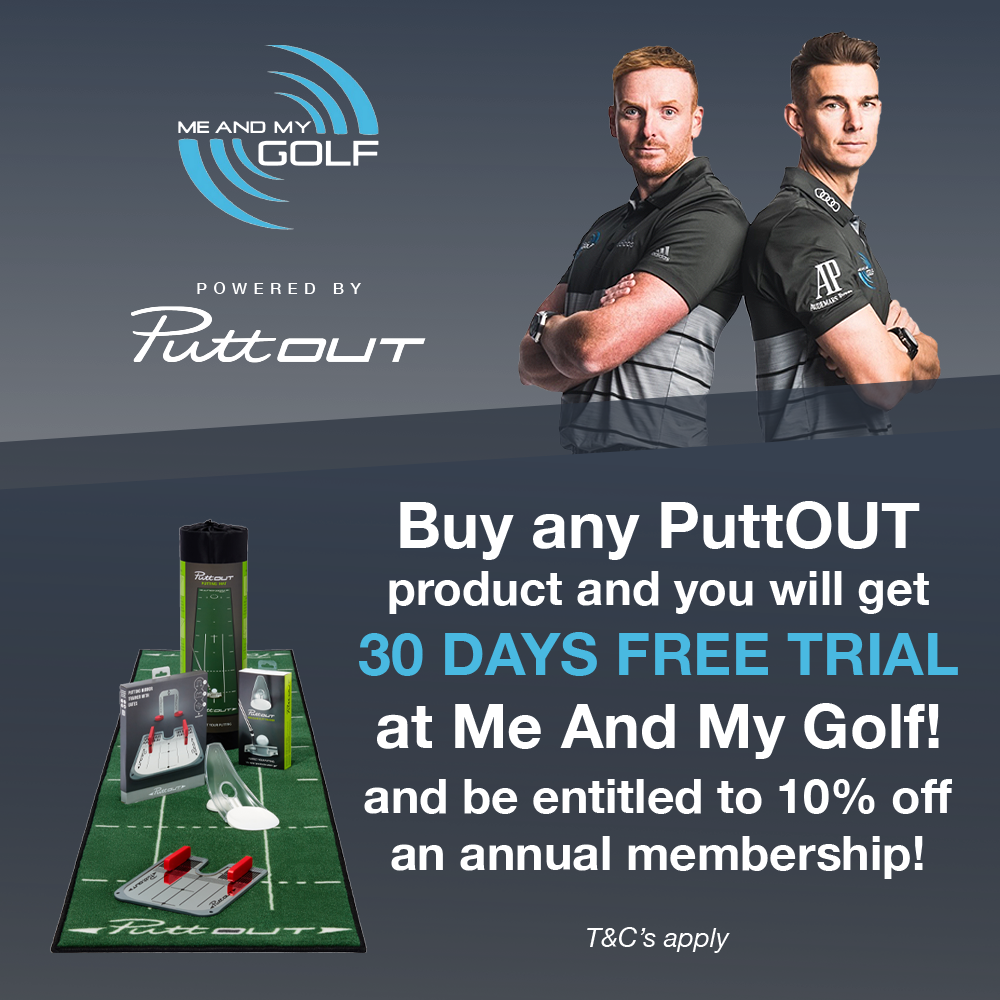 Learn, Improve & Connect with the best PGA Golf Coaches on the planet. For a limited time only at American Golf, buy any PuttOUT product and you will get 30 DAYS FREE TRIAL at Me & My Golf + be entitled to 10% OFF an annual membership!
It's their personal MISSION to help golfers around the globe of all walks, play the best golf of their lives. They believe in breaking through the barriers of what's possible with anyones golf game. Their aim is to deliver simple, yet powerful instruction & advice, so YOU can Take Charge of your game, find what REALLY works, and be the best you can possibly be.
What's Included?
How to play the basics
Get full access to this coaching plan that has helped over 110,000 golfers learn the basics of our wonderful game.
       
Golfing at home
Golfing tips, drills and plans to keep you improving your game from the comfort of your own home.
       
Coaching plans
Break 100, 90 and 80. Slice to draw. Ultimate Irons. Long game basics. every coaching plan we offer is included in your membership.
       
Video vaults
Full access  to over 1000 videos that can not be viewed anywhere else! Covering the full A-Z golfing Manual. All videos have been created by ourselves with one thing in mind, to improve your golfing game.
       
Flexible in 15
This flexibility program is an at home 6 part coaching plan that will keep you improving away from the golf course.
       
Members only social group
Join thousands of like-minded individuals and talk about everything golf related plus partake in our members only giveaways.
       
Shot fixer
Create your customisable plan with just a few clicks to work on any particular part of your game at your own pace.
       
Buy your PuttOut product HERE to claim your exclusive offer!
---
ME AND MY GOLF SITE Terms & Conditions
Please read these terms of use carefully before you start to use the site. By using our site, you indicate that you accept these terms of use and that you agree to abide by them. If you do not agree to these terms of use, please refrain from using our site.
Reliance On Information Posted & Disclaimer
the materials contained on our site are provided for general information purposes only and do not claim to be or constitute legal or other professional advice and shall not be relied upon as such.
We do not accept any responsibility for any loss which may arise from accessing or reliance on the information on this site and to the fullest extent permitted by English law, we exclude all liability for loss or damages direct or indirect arising from use of this site.
Information about us
www.meandmygolf.com is a site operated by Me and My Sports Ltd ("We"); we are a company registered in England and Wales under registration number 7608507. Our registered office is Phoenix Road Cannock Staffordshire England WS11 7LR.  Our VAT number is 144021362
Accessing our site
Access to our site is permitted on a temporary basis, and we reserve the right to withdraw or amend the service we provide on our site without notice (see below). We will not be liable if for any reason our site is unavailable at any time or for any period.
Intellectual property rights
We are the owner or the licensee of all intellectual property rights in our site, and in the material published on it.  Those works are protected by copyright laws and treaties around the world.  All such rights are reserved.
You may print off one copy, and may download extracts, of any page(s) from our site for your personal reference and you may draw the attention of others within your organisation to material posted on our site.
You must not modify the paper or digital copies of any materials you have printed off or downloaded in any way, and you must not use any illustrations, photographs, video or audio sequences or any graphics separately from any accompanying text.
Our status (and that of any identified contributors) as the authors of material on our site must always be acknowledged.
You must not use any part of the materials on our site for commercial purposes without obtaining a licence to do so from us or our licensors.
If you print off, copy or download any part of our site in breach of these terms of use, your right to use our site will cease immediately and you must, at our option, return or destroy any copies of the materials you have made.
Our site changes regularly
We aim to update our site regularly, and may change the content at any time. If the need arises, we may suspend access to our site, or close it indefinitely. Any of the material on our site may be out of date at any given time, and we are under no obligation to update such material.
Our liability
The material displayed on our site is provided without any guarantees, conditions or warranties as to its accuracy. To the extent permitted by law, we, and third parties connected to us hereby expressly exclude:
All conditions, warranties and other terms which might otherwise be implied by statute, common law or the law of equity.
Any liability for any direct, indirect or consequential loss or damage incurred by any user in connection with our site or in connection with the use, inability to use, or results of the use of our site, any websites linked to it and any materials posted on it, including, without limitation any liability for:
loss of income or revenue;
loss of business;
loss of profits or contracts;
loss of anticipated savings;
loss of data;
loss of goodwill;
wasted management or office time; and
for any other loss or damage of any kind, however arising and whether caused by tort (including negligence), breach of contract or otherwise, even if foreseeable, provided that this condition shall not prevent claims for loss of or damage to your tangible property or any other claims for direct financial loss that are not excluded by any of the categories set out above.
This does not affect our liability for death or personal injury arising from our negligence, nor our liability for fraudulent misrepresentation or misrepresentation as to a fundamental matter, nor any other liability which cannot be excluded or limited under applicable law.
Information about you and your visits to our site
We process information about you in accordance with our privacy policy.  By using our site, you consent to such processing and you warrant that all data provided by you is accurate.
Viruses, hacking and other offences
You must not misuse our site by knowingly introducing viruses, trojans, worms, logic bombs or other material which is malicious or technologically harmful. You must not attempt to gain unauthorised access to our site, the server on which our site is stored or any server, computer or database connected to our site. You must not attack our site via a denial-of-service attack or a distributed denial-of service attack.
By breaching this provision, you would commit a criminal offence under the Computer Misuse Act 1990. We will report any such breach to the relevant law enforcement authorities and we will co-operate with those authorities by disclosing your identity to them. In the event of such a breach, your right to use our site will cease immediately.
We will not be liable for any loss or damage caused by a distributed denial-of-service attack, viruses or other technologically harmful material that may infect your computer equipment, computer programs, data or other proprietary material due to your use of our site or to your downloading of any material posted on it, or on any website linked to it.
Links from our site
Where our site contains links to other sites and resources provided by third parties, these links are provided for your information only.  We have no control over the contents of those sites or resources, and accept no responsibility for them or for any loss or damage that may arise from your use of them.  When accessing a site via our website we advise you check their terms of use and privacy policies to ensure compliance and determine how they may use your information.
Jurisdiction and applicable law
The English courts will have non-exclusive jurisdiction over any claim arising from, or related to, a visit to our site.
These terms of use and any dispute or claim arising out of or in connection with them or their subject matter or formation (including non-contractual disputes or claims) shall be governed by and construed in accordance with the law of England and Wales.
Variations
We may revise these terms of use at any time by amending this page. You are expected to check this page from time to time to take notice of any changes we made, as they are binding on you. Some of the provisions contained in these terms of use may also be superseded by provisions or notices published elsewhere on our site.
Membership
Me and My Golf is an online membership subscription based platform that offers high quality golf video instruction and support. To learn more about all the offerings please visit https://meandmygolf.com/how-it-works/. The charges for membership service are either monthly $19.99, or yearly $149.00 plus local taxes. Each plan will automatically renew after the free 7 day trial. Funds are handled and secure by:
Recurly
Recurly is our subscription management software. Recurly is PCI-DSS Level 1 compliant, and recognized on the Visa Global Registry of Service Providers. We meet or exceed all industry-standard payment security practices to protect you and your customers.
Braintree Payment
Braintree Payments a PayPal company is our payment processing solution. You can learn more about their fraud protection here: https://www.braintreepayments.com/features/fraud-protection
CANCELLATIONS
Cancellations can be made at any time of the membership without penalty. To cancel your subscription simply go into your account settings and press the 'cancel' button.
Your concerns
If you have any concerns about material which appears on our site, please contact info@meandmygolf.com
Thank you for visiting our site.
Terms and Conditions of Sale
Delivery
Is by Royal Mail. Unless otherwise stated, all deliveries are undertaken using Royal Mail, www.royalmail.com, and are also subject to all their terms and conditions. The customer agrees to be bound by both Meandmygolf and Royal Mail's T&C when purchasing goods
Non-delivery of items sent and items lost in post
Meandmygolf will refund, after Royal Mail refunds – Contact Us.
All delivery times given are approximate.  An item will be considered lost when it has been longer than: UK – 15 days since expected delivery, or; Rest Of World – 25 days since expected delivery. Royal Mail investigations into missing deliveries take approximately 14 days after receipt of claim. Meandmygolf will undertake all claims in the event of non-delivery, the customer agrees to be bound by the above waiting times, and/or until Royal Mail have completed the investigation into the missing delivery. If/when Royal Mail pays compensation, meandmygolf will pass the refund on to the customer within 7 working days, or within a reasonable amount of time since the item is advised not arrived. The customer agrees to respond and provide information, within a reasonable time, to any requests from Royal Mail and/or Law Enforcement
VAT
Meandmygolf will pay no extra charges for the customer.  Meandmygolf is a VAT-registered entity, VAT receipts are provided with all orders. VAT will be paid by meandmygolf.
General Refunds (UK Customers)
Within 14 days. Full no-hassle refunds for faulty / not-as-described goods as covered under The Sale of Goods Act 1979. UK general returns accepted to Me And My Sports ltd c/o Key Precision Ltd, Phoenix Road, Cannock, Staffordshire WS11 7LR, UK as covered under The Consumer Protection (Distance Selling) Regulations 2000; customer is liable for return shipping costs.  Exchanges will be accepted for unworn/undamaged products if a different size is required, again, customer is liable for return postage.
General Refunds (Customers Outside UK)
On negotiation, unless goods not-as-described. Full no-hassle refunds for faulty / not-as-described goods. General returns accepted under negotiation for each specific transaction, generally purchase price less costs, delivery charges non-refundable
Statutory Rights
Your statutory rights are not affected