For the golfer and non-golfer alike, Christmas can be a bonanza of well-considered, practical or stylish gifts, or a collection of items that quickly find their way to the cupboard under the stairs. So, whether you play the game or not; are buying for yourself or a keen golfer you know, you want to make sure that your purchase is good value and will be appreciated.
---
Clothing, shoes and accessories
---
Under Armour Men's Medal RST Spiked Golf Shoes – from £74.99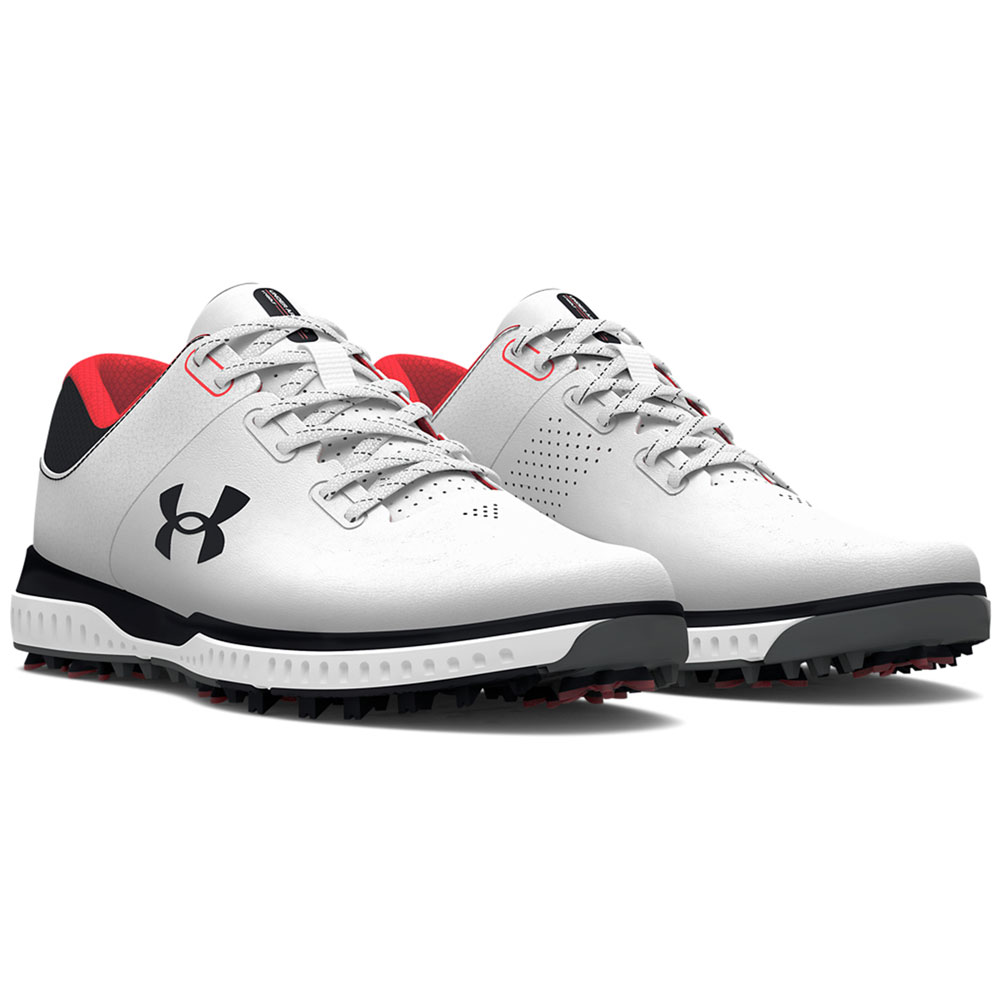 Reasons to buy
Created by Specialists
Excellent Performance
Spiked for superior grip
The Under Armour company was founded in 1993 by Kevin Plank, a former American football player who, there's no way to put this delicately, sweated a lot under his armour, so searched for synthetic materials to make a shirt that would wick the sweat from his body. As a former athlete, he knows how clothing for sport needs to perform, so quickly branched out to all manner of clothing, as evidenced by this shoe. Sleek and stylish, this footwear features an integrated lace system to lock the foot in place, lightweight EVA midsole, a removable foam insole and a water-resistant microfibre upper. EVA, incidentally, stands for ethylene vinyl acetate copolymer, an elastic yet tough thermoplastic. This spiked model is ideal for heavier underfoot conditions and comes in a variety of colour options including classic white or black, and a hybrid that features a white upper and dark coloured heel.
---
Stromberg Men's Crew Golf Socks - £9.99
Reasons to buy
Great value
Supportive
High performance
The best golf shoes in the world amount to nothing if the socks worn in them don't come up to scratch. They need to be warm, cushioned for comfort and supportive. These Stromberg socks are created specifically to meet the demands of golf because everyday footwear just won't. They are of a crew-length, or mid-calf design and have been designed with arch support, and additional cushioning to keep you as comfortable as possible when you play. A three-pack contains a pair each of white, black or grey and is available in sizes 6.5-8 or 8.5-11.
---
Stromberg Men's Slippers - £9.99
Reasons to buy
Continuing with footwear but with a completely different emphasis, here's a golf gift to make the golfer think about his game with a smile even when he's relaxing at home. The mule-style slipper has a soft lining for comfort, a textured sole to give grip on polished surfaces and a choice of designs, with a variety of colour options.
---
Under Armour Men's Webbing Golf Belt - £14.99
Reasons to buy
Stylish
Sophisticated
Affordable
Available in three colours – black, navy and grey, the belt is braided for style and flexibility, and features the Under Armour name engraved in leather, with a classic metal buckle. It makes a statement of sophistication without being gaudy or brash. Available in one size.
---
Benross Men's Multi Stripe Knit Pom Golf Hat - £9.99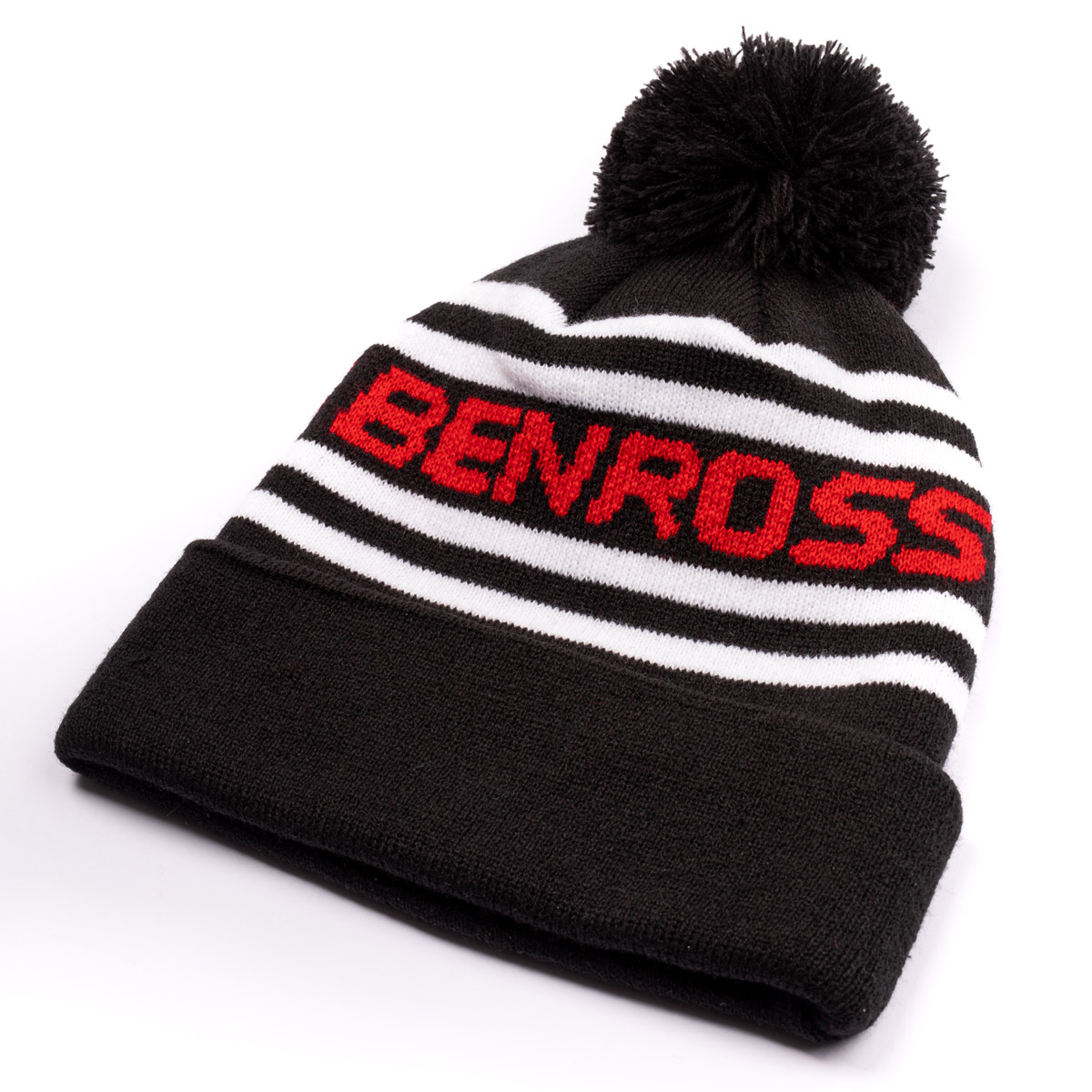 Reasons to buy
Superb Value
Striking design
Knitted comfort
Winter or windy golf requires specific clothing and none more so than a good woolly hat. The oft-quoted statistic that we lose 80% of our body heat through our head is a myth, it's actually nearer 10%. But even that percentage can make a big difference during a four-hour round of golf, especially if it feels like your ears are about to fall off. This striking hat from Benross features the topknot pom-pom and a generous turned cuff and is available in a choice of bold striped designs. One features the Benross name in red across the centre of the hat, the other sees the name highlighted in white across the cuff.
---
Cobra Men's Golf StormGrip Rain Golf Gloves - £9.99
Reasons to buy
Superb Value
Striking design
More grip in the rain
Winter or windy golf requires specific clothing and none more so than a good pair of rain golf gloves. If you're happy to keep playing in the rain you need to be properly prepared and these gloves feature an innovative StormGrip suede in the palm which grips better when wet to ensure you can perform no matter the weather. These striking gloves from Cobra also have a DWR finish to repel water away and have an electronic touch screen compatible index finger. if you're wanting to continue playing during the winter these are a must have.
---
Under Armour Men's Storm SweaterFleece Half Zip Mid Layer - £64.99
Reasons to buy
Unbeatable performance
Wide choice of colours
Technically advanced
Polo shirts are ubiquitous on the golf course for a very good reason – they do exactly what is required of them and this offering from Under Armour ticks all the boxes. It comes in a range of stylish, plain colours for the golfer who prefers a classic, tasteful look. It has been constructed with stretchy sweater fleece fabric which has a soft brushed interior for comfort and warmth. It has Under Armour Storm technology, which is a coating that repels water away from the surface fabric without sacrificing breathability making it a great gift if you're looking for choice this Christmas.
---
Calvin Klein Men's Shadow Stripe Golf Polo Shirt - £24.95
Reasons to buy
Subtle design
Enhanced performance
Premium company
Also equipped with the stylish and classic stiff collar, this polo shirt from Calvin Klien has a distinctive but subtle design and features DriBreeze lightweight and breathable fabric that offers moisture-wicking comfort. For golfers, breathability and stretchability are crucial to a shirt and this model features both in abundance. The discreet CK logo just adds to the feeling of quality. The shirt is available in five size options from S-XXL.
---
GPS and training aids
---
TecTecTec ULT-G Golf GPS Watch - £99.99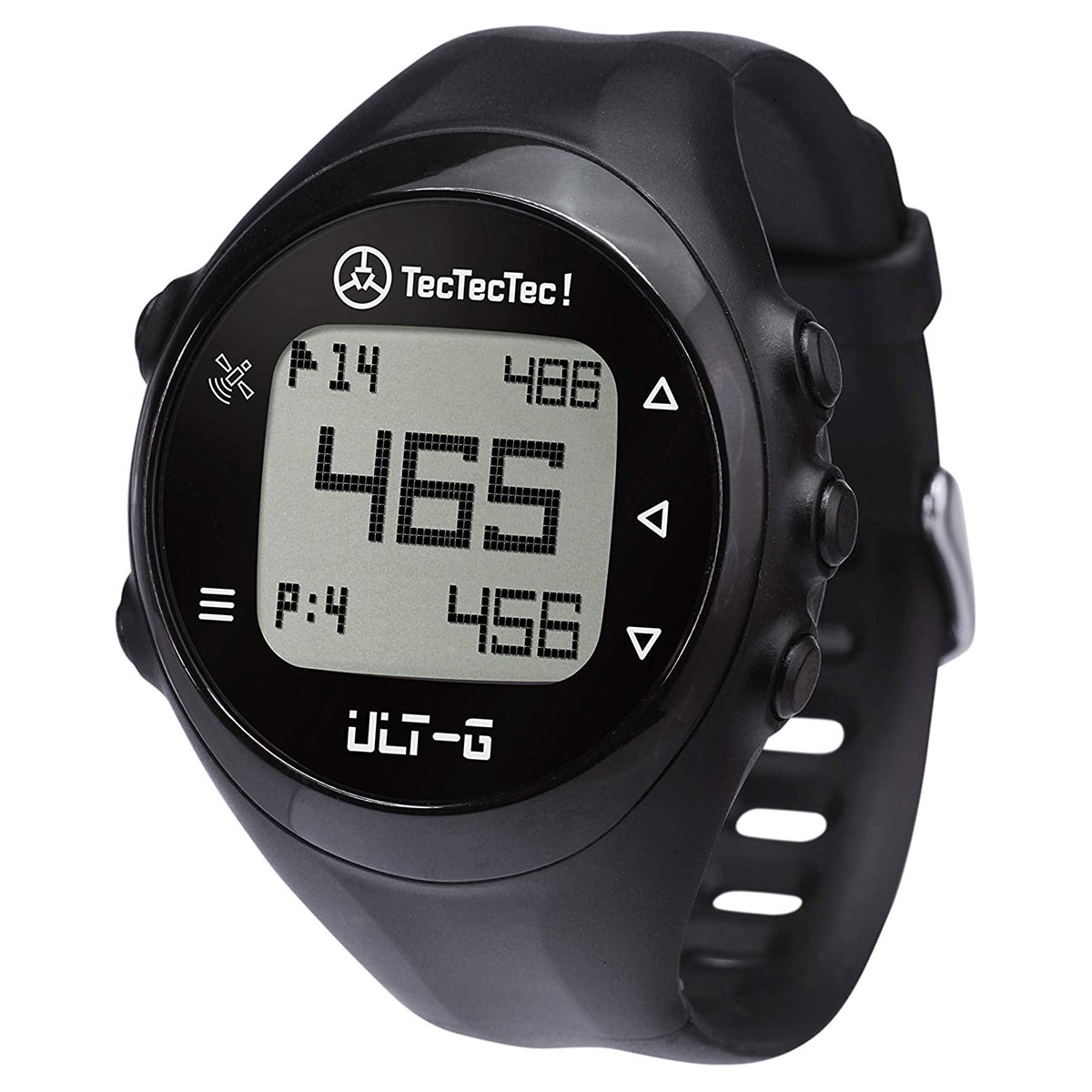 Reasons to buy
Superb value
Easy to operate
Sturdy and practical
Range measuring devices have become an essential piece of equipment for both the seriously competitive and recreational golfer. The most convenient rangefinders to use are those worn like a wristwatch. TecTecTec is a French company that has pioneered rangefinders and has been a leader in sports optic since 2014. This model offers straightforward, uncomplicated functionality and features over 38,000 golf courses. More importantly, perhaps, it does not require annual subscriptions or update fees, meaning whoever you gift it won't then be tied into a yearly payment as a result! It has a lightweight, durable design with a battery life of more than 2.5 rounds of 18-hole golf. It is the user-friendly option for the budget conscious.
---
Garmin Approach S6 Golf GPS Watch - £399.99
Reasons to buy
Technically superior
Numerous features
Stylish
If you're buying a gift for a more discerning golfer, this Garmin GPS watch comes with a host of special features. In addition to yardages to the front, centre and back of greens, it displays full-colour graphics of the hole the golfer is playing, including information on hazards and penalty areas. Technically sophisticated with an intuitive user interface, it offers course mapping and will even make adjustments, taking into account whether a shot is up- or downhill. It has access to more than 40,000 golf courses worldwide and can update automatically to Garmin Connect for post-match analysis. It is available with a black or pale grey wristband.
---
TecTecTec KLYR Golf Rangefinder - £169.99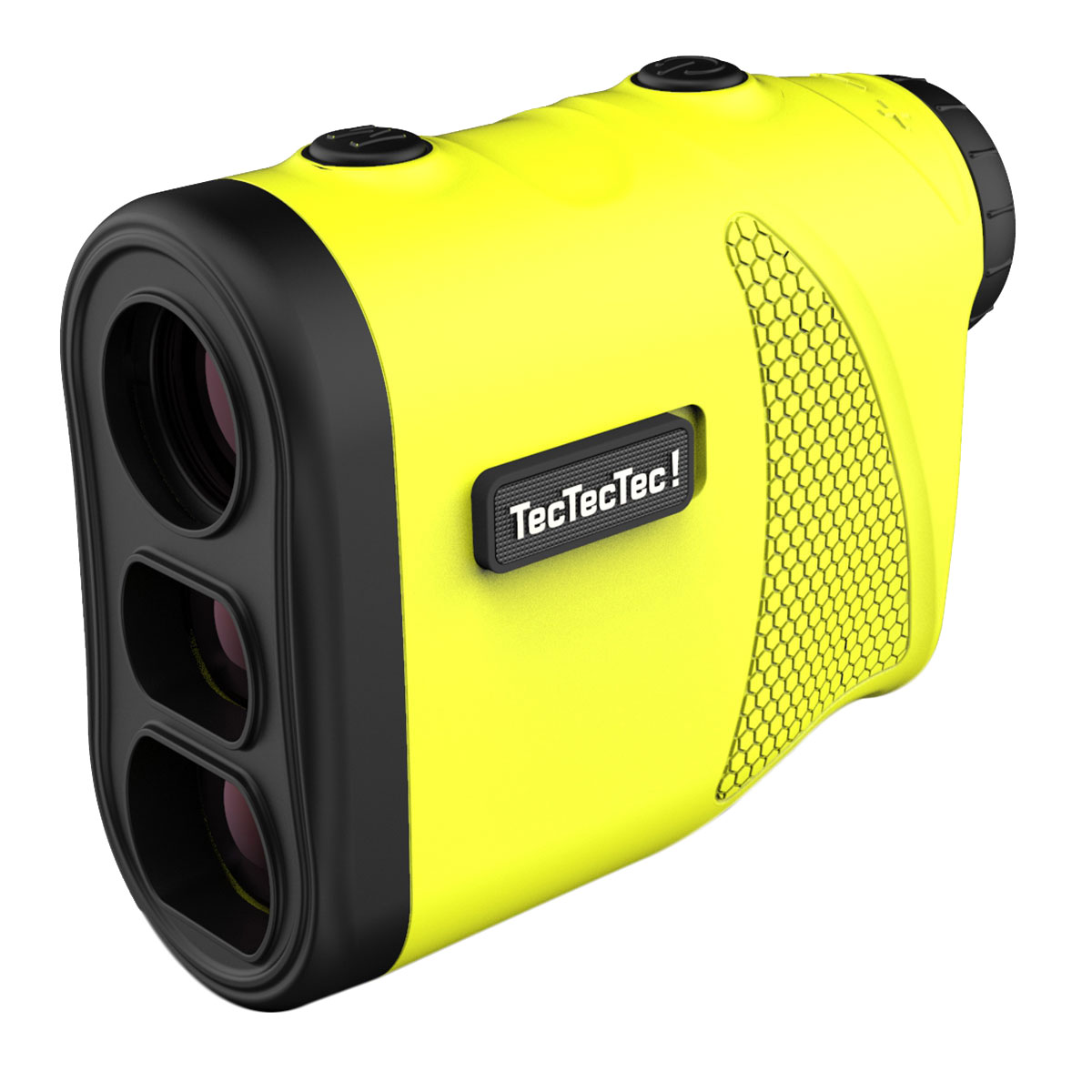 Reasons to buy
Pocket-sized, at around 30% smaller than most competitors, this rangefinder can fit in any golf bag or trouser pocket. It is versatile and offers slope compensated distance (to allow and adjust for viewing up and downhill). Even better, it can be used on any course in the world. An inbuilt magnet means it can be attached to the provided belt clip and it also comes with a ball marker and protective case. There is also an anti-vibration lock feature, particularly useful on windy days. Golf Insider concluded it is: 'Incredibly quick, simple and fun to use. It offers better speed and almost comparable accuracy to rangefinders twice its price.' It is available in black, white or yellow.
---
Rife Deluxe Edition Golf Putting Mat - £44.99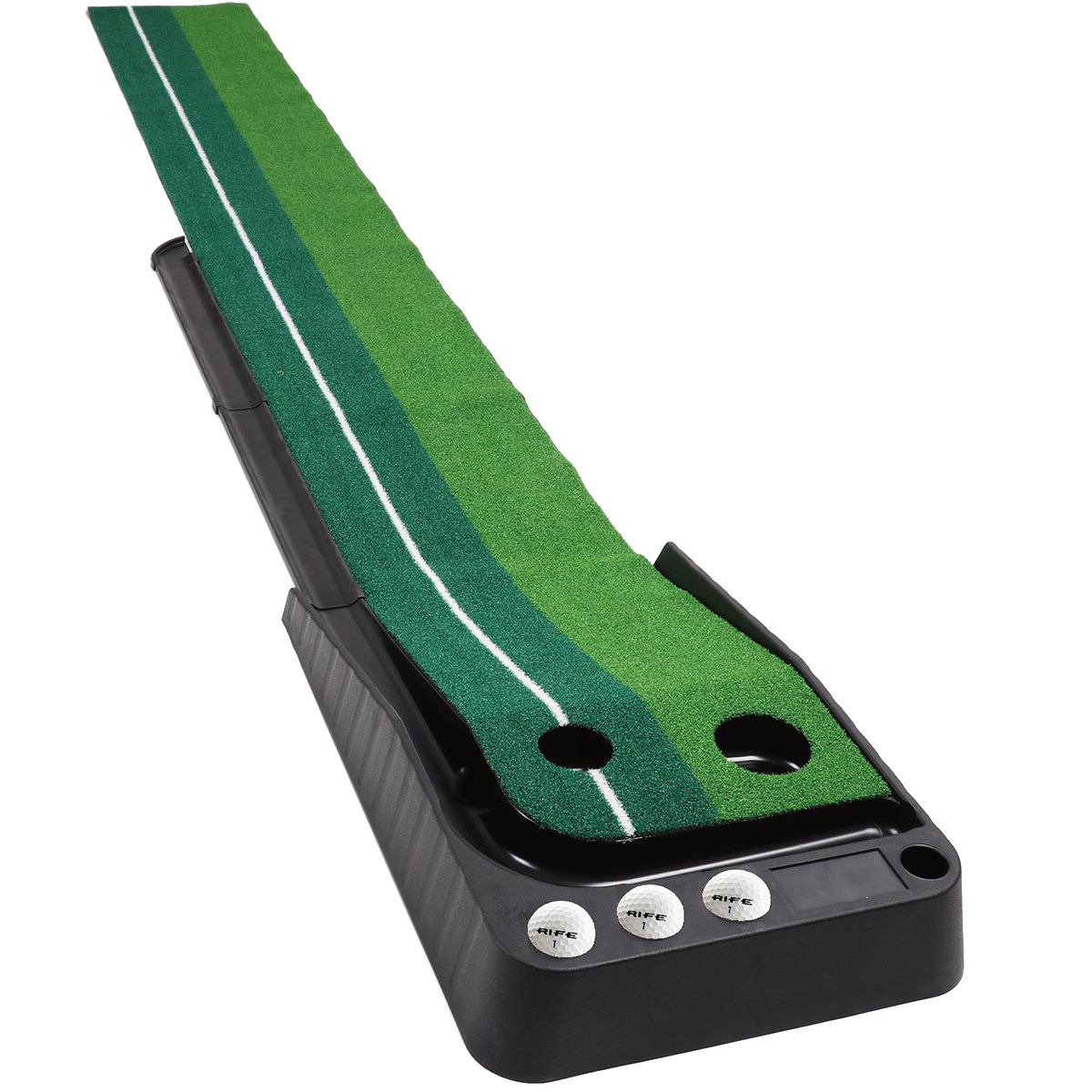 Reasons to buy
Fun
Practical
Excellent training aid
The course might be closed or the weather abysmal, but the keen golfer may still want to practice, especially the crucial art of putting. This portable, lightweight practice mat will help them groove that putting stroke without constantly having to bend over, thanks to the automatic retrieval system that returns the ball to their feet. One half of the mat features a white line so the golfer can check if they are rolling the ball end over end and not making off-centre hits. Size: 300cm x 30cm / 250cm x 30cm
---
Rife Golf Chipping Net - £29.99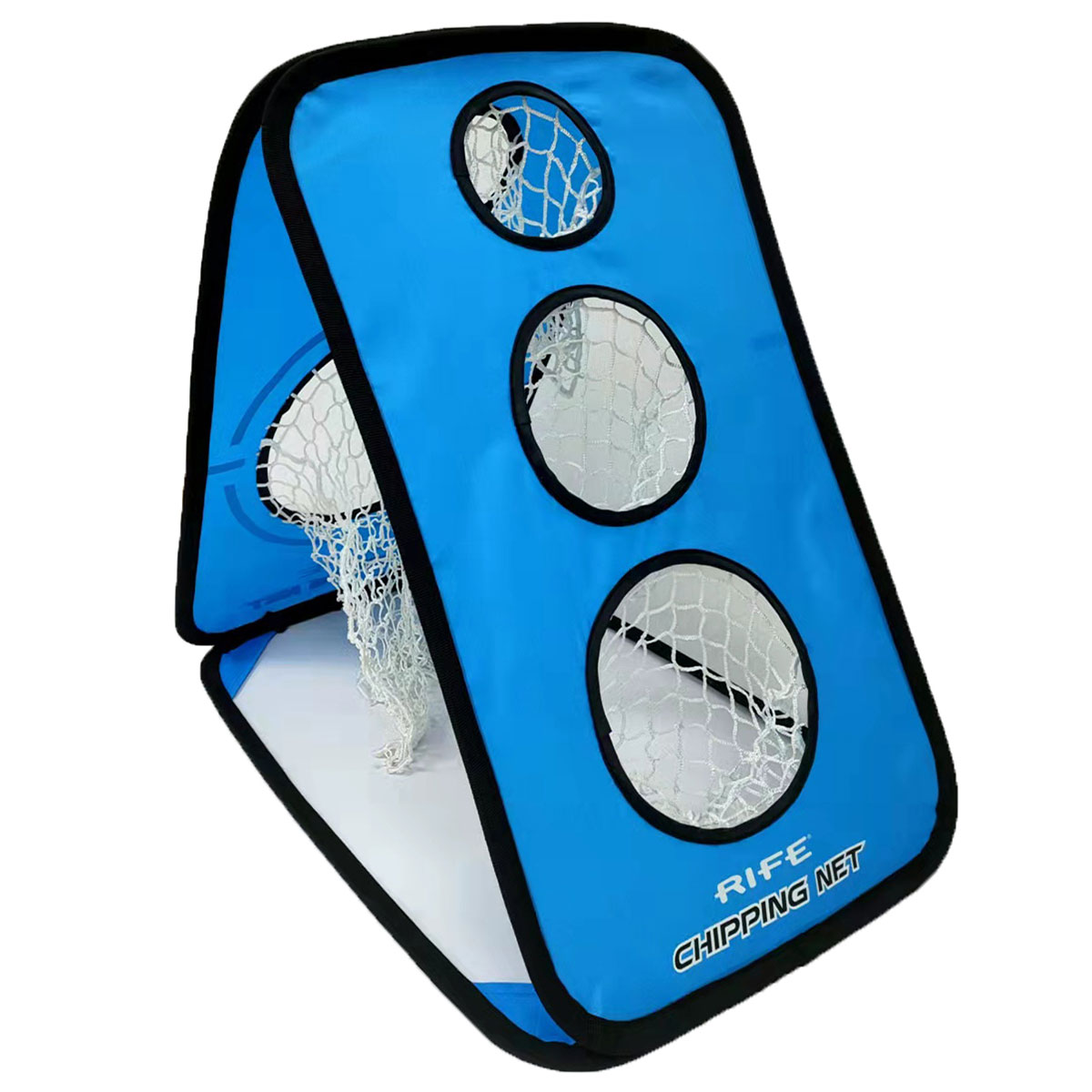 Reasons to buy
Lightweight
Portable
Convenient
Before the golfer can putt, they need to find the green, so this chipping net will help them sharpen this crucially important part of the game. It features three target holes of reducing size, so as the golfer practices, they develop the skills to become ever more accurate. It comes in a bespoke carry and storage bag, meaning it can be set up and packed away in moments.
---
Golf Balls
---
Volvik Gift Tube Golf Pack - £14.99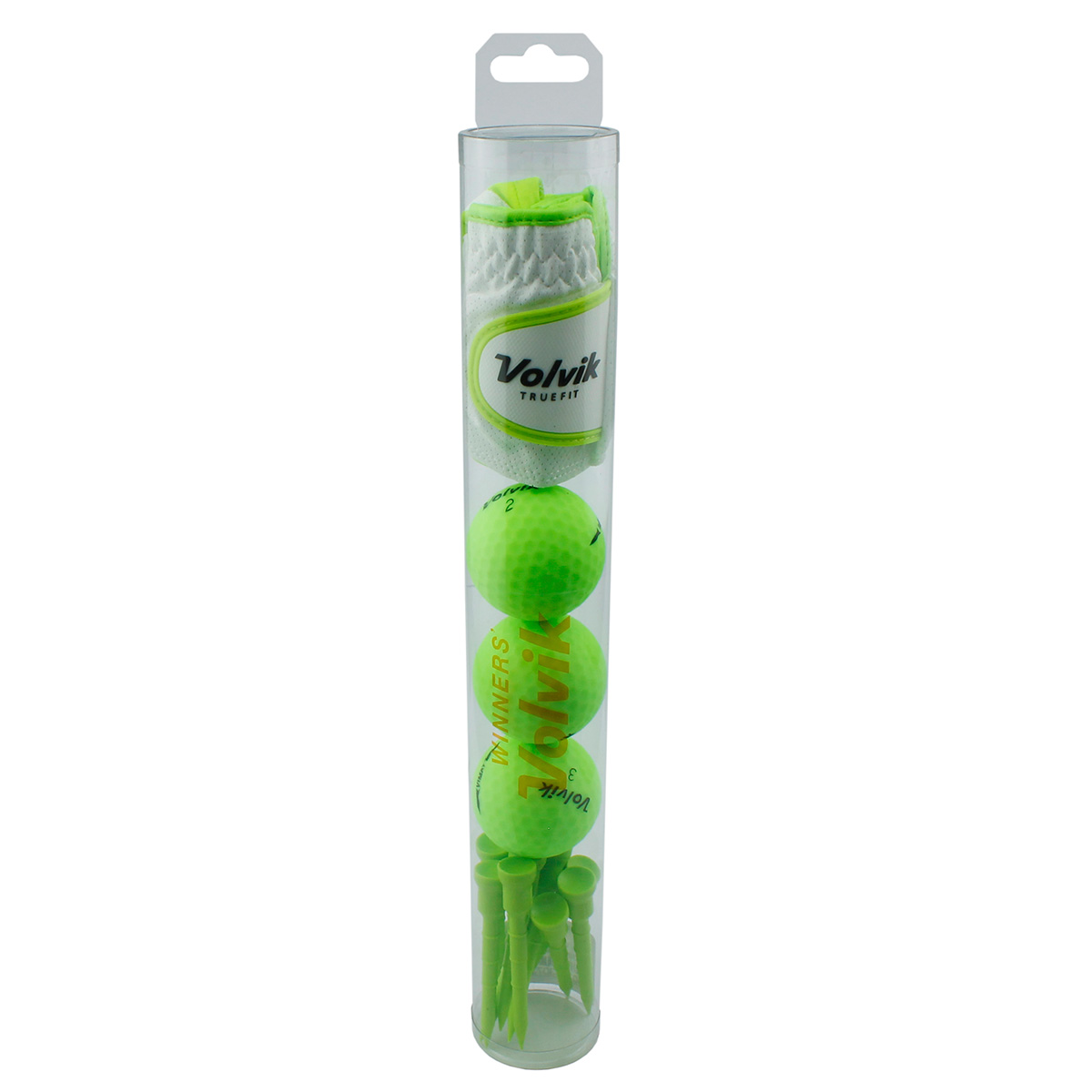 Reasons to buy
Practical gift
Performance ball
Good value
Everything the golfer needs to tee it up, in a lightweight gift pack. It features three golf balls, either the Vivid or Vimat from the Volvik range, a one-size glove with non-slip technology and tees. The balls come in an attractive matte finish, a world first, to offer greater visibility and help find the ball more easily. Available in classic white with black lettering or lime green, the balls offer mid to high trajectory, a softer feel and are ideally suited to the player with a slower swing speed to give them maximum distance. The Volvik name on the side of the ball provides a simple alignment guide for putting.
---
Rife RX Soft Distance Coloured Ladies 12 Golf Ball Pack - £19.99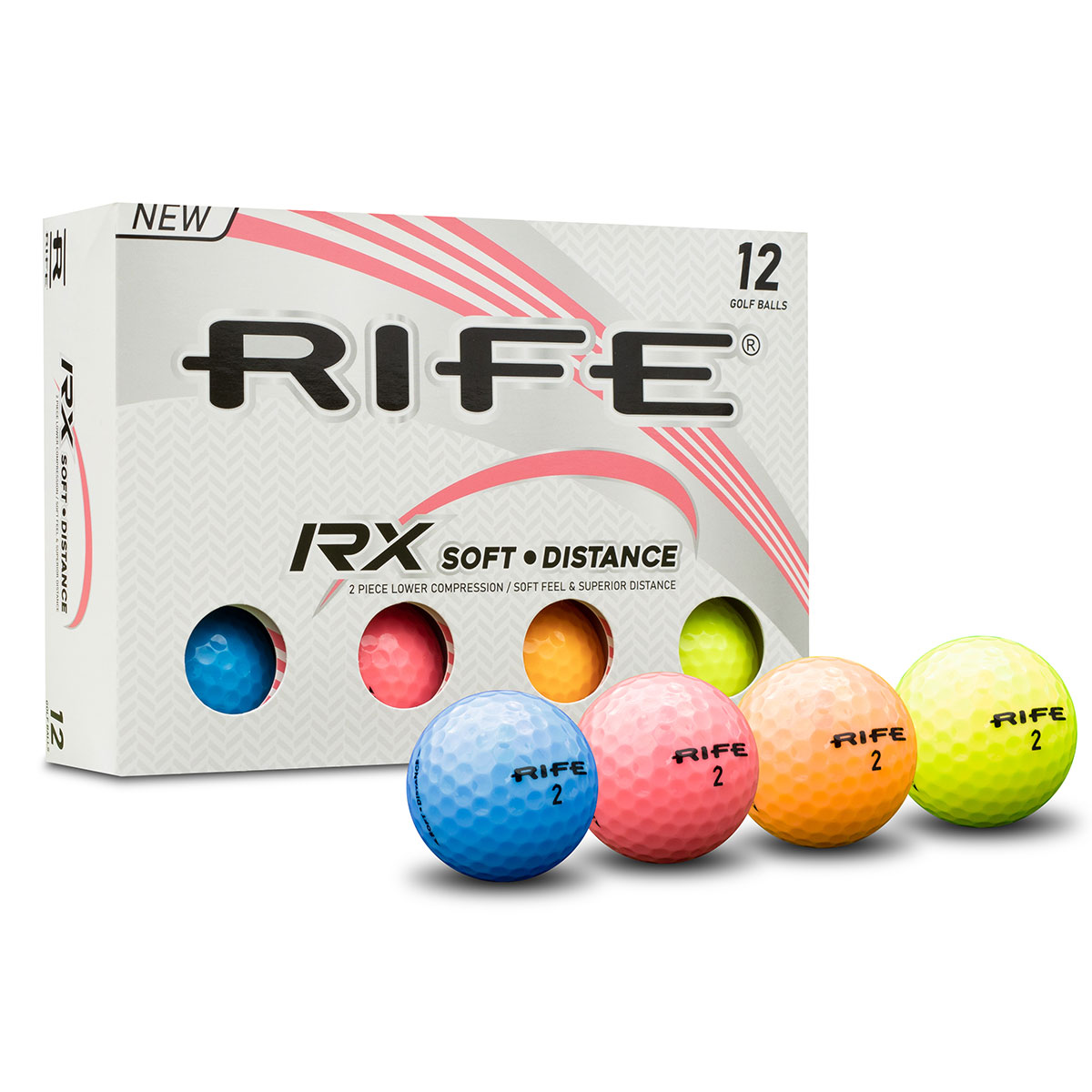 Reasons to buy
Brilliant colours
Designed for women
Excellent distance
For the woman golfer in your life, this is the perfectly practical, attractive and affordable gift to add to their golf bag. This is a low compression, two-piece ball created to offer maximum distance with a Surlyn cover for greater durability – even after several visits to the woods it should still look pristine. The most immediately striking feature, however, is that the 12-ball pack features equal numbers of four colours – blue, orange, red and yellow.
---
Volvik Marvel 4 Golf Ball Pack With Marker - £24.99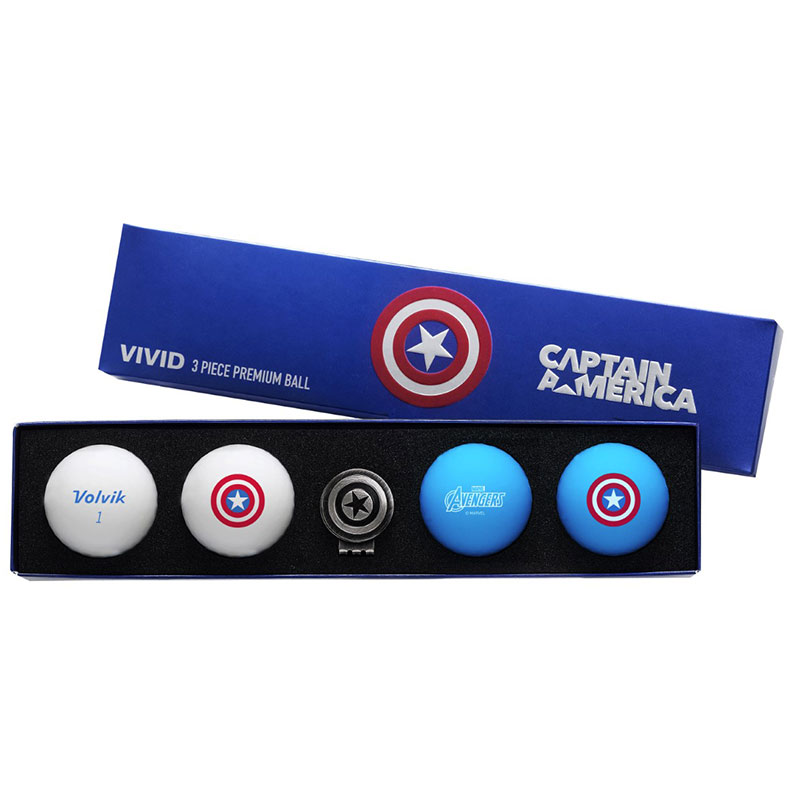 Reasons to buy
Original
Unmissable
Mid-range ball
A fun, funky alternative for the young golfer or those who remain young at heart, this pack features officially licensed Marvel merchandise. The balls have the same matte finish high-visibility quality as those in the gift tube pack but with even more added features. The pack contains four Vivid balls, in a range of colours including yellow, red, blue, white and black, along with a magnetic hat clip and Superhero ball marker to match the logo on the ball, all contained in a stylish, collectable box.
---
Srixon Ladies Soft Feel 12 Golf Ball Pack - £22.99
The best recommendation we can give this golf ball is the verdict of Golf Monthly, whose tester wrote: 'This popular ladies' golf ball offers a super soft feel and decent spin control without compromising on distance. We loved everything from the packaging to the performance and the appealing price point.' Designed specifically for women, who tend to have a slower swing speed, it offers superb touch and feel, yet maximises distance for rhythmic swingers who rely on timing and tempo rather than brute force. It has a fast layer core, 338 dimple pattern and soft, thin cover. This last point is the only negative we could find as it means the ball may mark up or scratch a little more than a harder ball. It is available in white or bright pink (fuchsia).
---
Clubs and bags
---
Benross HTX Graphite Golf Package Set - £449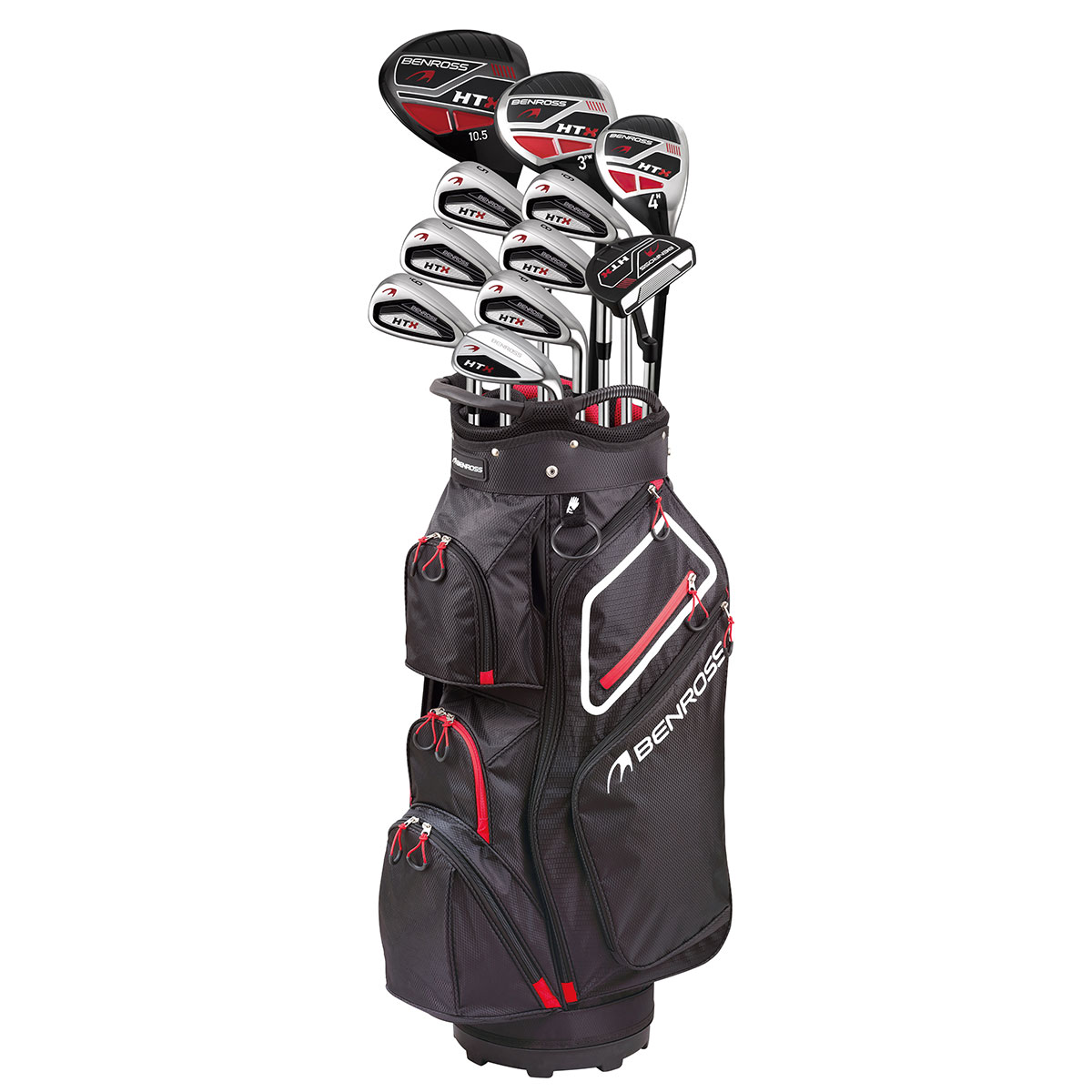 Reasons to buy
Super value
Graphite shafts
Superior performance
This great value golf set is the perfect package for the novice or relative beginner who wants to upgrade their equipment, or more experienced golfers who simply like a good deal. It consists of 16 pieces, comprising a driver, 3-wood, fairway hybrid; seven-piece cavity-back set of irons (5-iron – sand wedge), a mallet putter, head covers for the woods and a premium cart bag. The graphite-shaft irons feature a peripheral weighted, cavity back design to offer easy launch and consistent distance throughout the set. The titanium headed driver has a large sweet spot to minimise the effect of off-centre hits, while the 3-wood and hybrid clubs include a low centre of gravity to get the ball airborne from the turf. It all combines to give superb performance in a stylish, affordable package. It's only available for right-handed golfers, so make sure you don't buy this as a gift for a left-handed golfer!
---
TaylorMade Spider Tour Black Slant Golf Putter - £189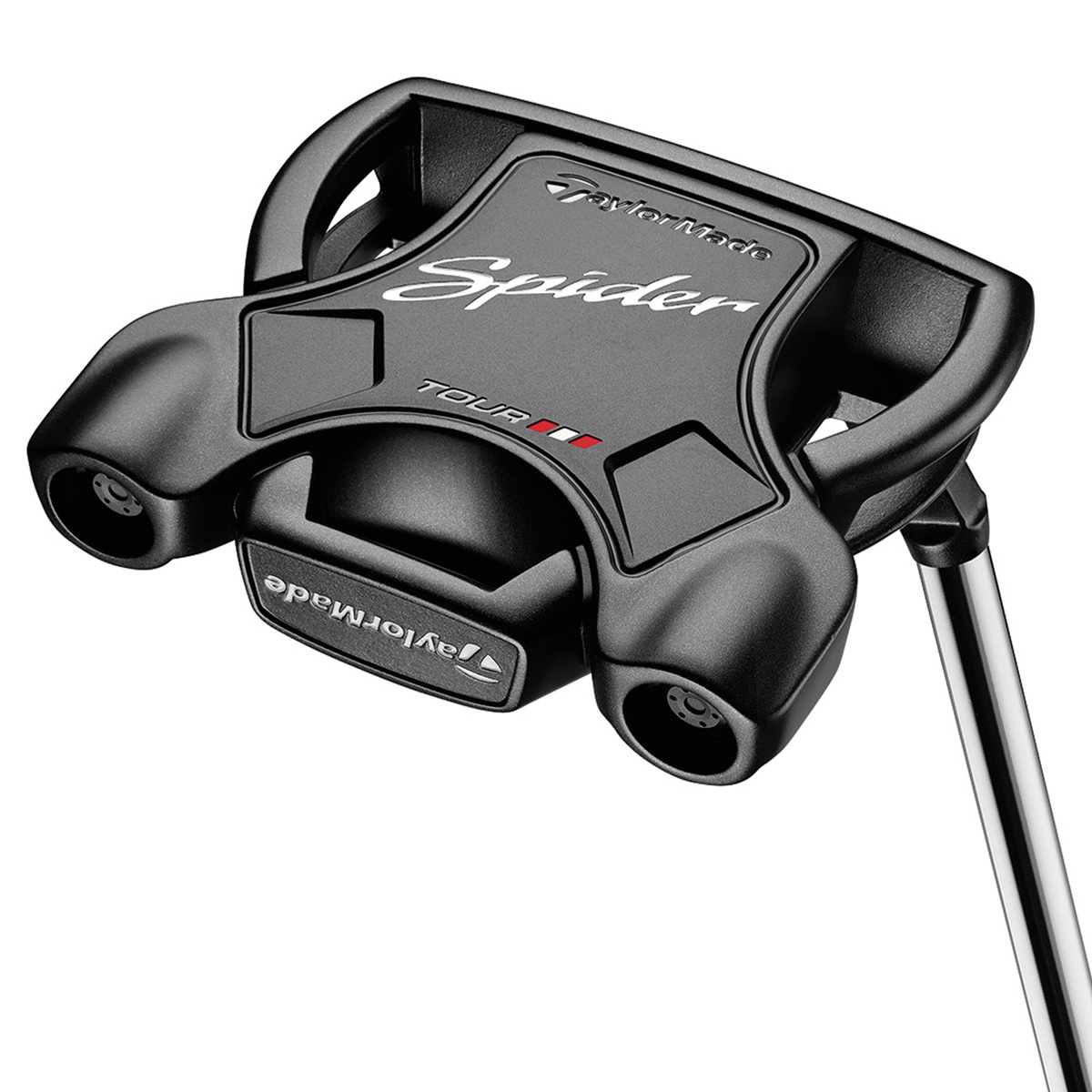 Reasons to buy
Latest technology
Unbeatable performance
Two-year guarantee
It is often said that the two most important clubs in the bag are the driver and putter – but considering that you may hit the driver about 14 times in a round but use the putter at least 30 times (and probably more), we think the flat stick is by far the more essential bit of kit. Not only does this offering from TaylorMade look terrific, but it's also packed with technology and has been wielded by some of the best golfers in the world, including Rory McIlroy. It offers excellent stability and increased topspin – essential if you want the ball to roll truer, more quickly. It has an overall square head shape for better alignment and the short slant neck hosel gives increased visibility. It comes with a two-year guarantee and is available for left and right-handed golfers. A premium product from a premier brand; it looks great, too.
---
Wilson Deep Red Junior 8-11 Golf Package Set - £179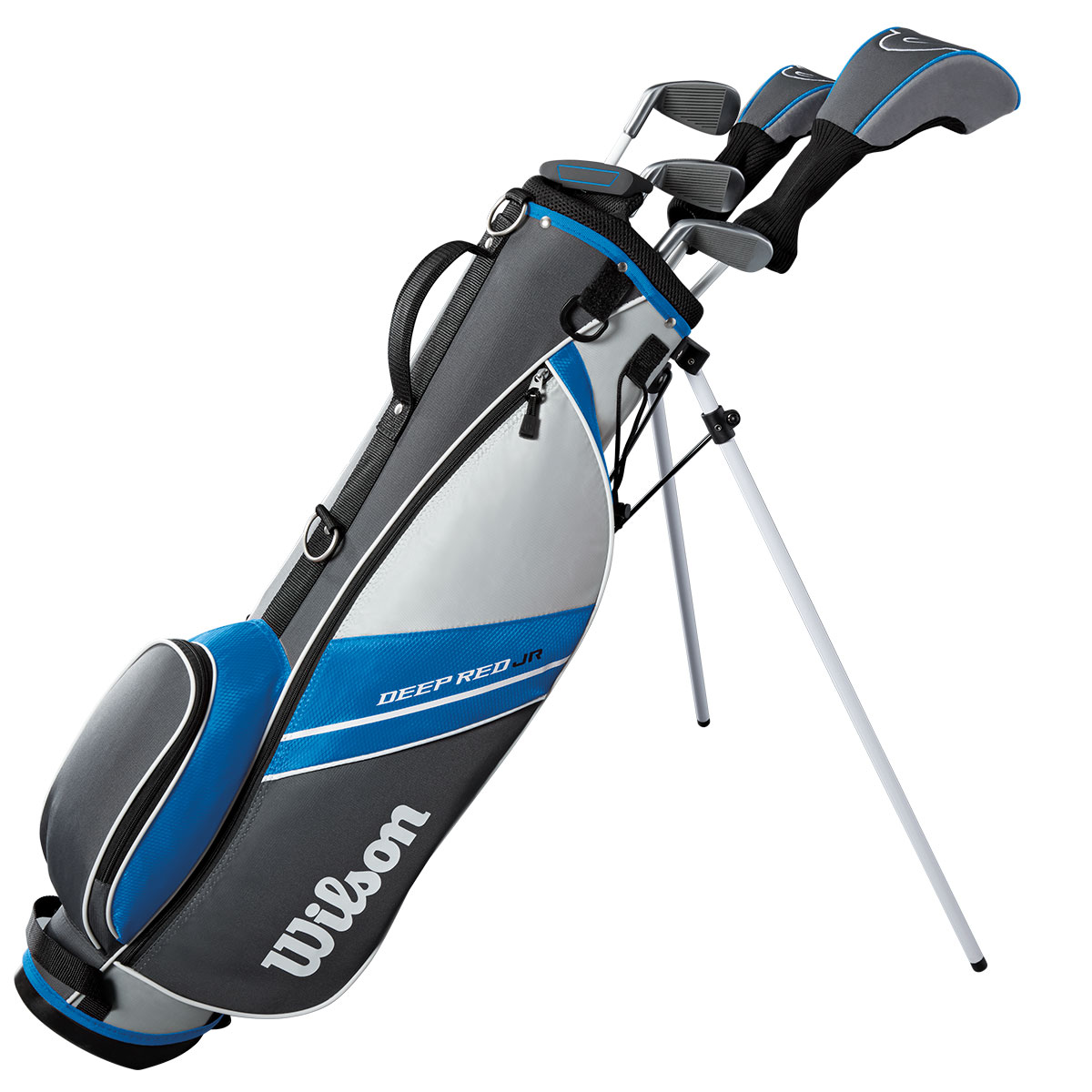 Reasons to buy
Excellent starter kit
Graphite shafts
Super value
This excellent package was featured in the Today's Golfer review of Best Kids' Golf Clubs and it's easy to see why. Created for the 8-11 years age range, it is an excellent starter or improvement set for the young golfer in your life. It features six clubs – driver, hybrid, long-iron, mid-iron, wedge and putter, all with junior flex graphite shafts and housed in a Wilson-branded lightweight stand bag. Including a long iron rather than another hybrid is an interesting choice but will encourage the young golfer to master this club at an early age, so it will hold no fears. Available right-hand only the package comes with a one-year guarantee.
---
Daphne's Highland Cow Golf Head Cover - £29.99
Reasons to buy
Practical
Fun
Built to last
The company that makes these striking products says: 'Daphne's Headcovers is the leading animal golf headcover business in the world. Based in Phoenix, Arizona, Daphne's Headcovers are sold in over 75 countries.' It now offers more than 175 designs, but this Bulldog model is one of the most popular. For the golfer who likes to protect their equipment and stand out from the crowd, it's the perfect gift. Designed to accommodate any club up to and including a 460cc driver, this head cover is fully lined and elasticated, so not only does it look good, but you also won't need a wrestling match to get it on and off.
---
About the Author
Martin Vousden - Golf Writer
Vousden bio
Martin Vousden joined Today's Golfer in 1988 as a staff writer and quickly rose to become editor; under his stewardship it became Britain's best-selling golf title. He then became launch editor of Golf Buyer and Swing magazines, before moving to Scotland to take over at ScottishGolf. After five years he became (and remains) a freelance journalist, having written for numerous titles, including Golf Monthly, Golf Punk and The Clubhouse, which is based in Malaysia. He lives in Angus, about 12 miles from the Carnoustie course that beats him up every time he plays it, so he joined Kirriemuir GC. His handicap of 19.3 rises inexorably with every passing year.
Martin's golf bag contains:
Ping G400 driver
King Cobra F/Speed 3-wood
Kane Golf 5-wood
Callaway Big Bertha 7-wood
Wilson D9 irons, 5-gap wedge
Yonex Z-Force sand wedge
John Letters Golden Goose lob wedge
Putter: GEL Ruby or Odyssey 2-ball blade (depending on which is behaving itself)
TaylorMade Distance Balls (yellow, just because he likes the colour)