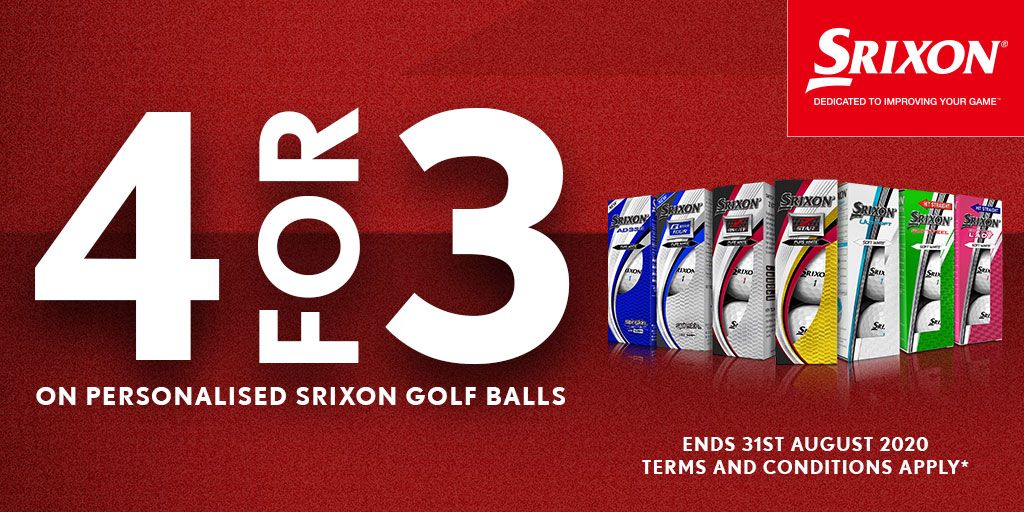 Golf is back! The perfect time to stock up on balls and we're giving you the chance to. For a limited time, between Friday 5th June 2020 & Monday 31st August 2020, Srixon is offering 4 dozen golf balls for the price of 3 with either the Z-Star XV, Z-Star, Q-Star Tour, AD333, Soft Feel, Soft Feel Lady (white) and Ultisoft balls.
On top of the 4-for-3 deal, Srixon is also offering free personalisation on the balls. You can get three lines of text with 15 characters each, so you can set up your own personal sayings or whatever you'd like with those 45 characters. You can pick between two fonts and 4 text colors.
Shop online HERE

These terms and conditions relate to the Srixon 4 for 3 Personalisation promotion as advertised by American Golf.
Minimum order quantity 4 dozen per order.
Maximum order quantity 8 dozen per order.
No repetitive orders.
Free personalisation on all orders.
Each 4 dozen must be same ball type.
One order consists of 4 dozen, or 8 dozen with the same personalised message.
e.g. A maximum 8 dozen order can consist of 4 dozen AD333 with red text, and 4 dozen Z-Star with blue, but with the same message on all balls.
Maximum 3 lines of text.
Minimum of 2 characters in total.
Maximum of 15 characters per line including spaces.
The same message must be on all golf balls per order.
Standard font only.
Upper case only.
Black, Blue, Green or Red ink on white balls.
Yellow balls will be printed in black ink only.
Length of message will determine the size of the printed font. (e.g more characters will result in smaller font).
Single pole only (one side of the ball).
Srixon Europe will reject any message deemed offensive.
Srixon Europe reserves the right to refuse printing of a message onto the golf ball.
Brand names, sports clubs and symbols (i.e. • - !) prohibited.
Promotion available on Z-Star XV, Z-Star, Q-Star Tour, AD333, Soft Feel, Soft Feel Lady (white) and Ultisoft
Full deposit required on all orders.
Orders cannot be cancelled or altered once submitted. Inline with The Consumer Contracts Regulation 2013.
Stock subject to availability by Srixon.
Srixon 2020 models of golf balls only included in this promotion.
None personalised, previous models and current stock of Srixon golf balls may have a different RRP.
Delivery approx. 14 working days from confirmation of order. Confirmation of order can take up to 4 days.
Promotion start date: Friday 5th Junes 2020.
Promotion end date: Close of business 31st August 2020.
Available in the UK and Ireland only. In-store and Online.
American Golf reserves the right to amend these terms and conditions and/or withdraw the offer without prior notice and without liability.
This promotion is a trade promotion regulated by Srixon Europe.