Starting out in golf can be a daunting business – golfers have their own language and set of behaviours. They get irritated if you leave your trolley on the wrong side of the green, and get even more annoyed if you stand on the line of their putt, or in their eyeline when they're about to drive. Sometimes your first few rounds of golf can be a minefield of social etiquette, manners and behaviour. But once you've acclimatised yourself to the ways in which you need to behave on the course, and realise that this is a game for which you have an aptitude, your mind will turn to equipment and, specifically, which clubs to buy. The vast array on offer can be daunting because of the sheer volume of options from which to choose. This guide is to help you make an informed choice.
What you need to know about Golf Clubs
A golf club consists of a grip, a shaft and a clubhead but it's the last two that are crucially important. However, don't overlook the grip as it's the only part of you attached to the club throughout the swing. It needs to offer good adhesion and be the right size. In addition to the rubberised or synthetic material that you feel, it will have a layer of tape underneath. If you have long fingers, you might want to get an extra one or two layers, to ensure that the club fits snugly in your hands. Your club pro or fitting centre should be able to help with advice.
The shaft of the club is arguably the most important component of all because it is this that delivers the clubhead to the ball, and can do it in a variety of ways. Shafts can be made of steel or graphite. Steel is more consistent in manufacture, heavier in weight and more durable. Steel shafts also have less torque, or twist, during the swing but give excellent feedback through the fingers. Graphite shafts are more expensive but lighter, meaning they can help you swing the club faster, thereby generating greater distance. Shafts also come in varying stiffnesses and, as a rough guide, the stiffer the shaft, the more swing speed you need to generate: as a relative beginner, a stiff option is probably not for you.
Finally, there's the clubhead. Nowadays, the best choice for almost all amateur golfers is a cavity back or peripherally weighted clubhead (they're the same thing). With these, the centre of the back of the clubhead is hollowed out, allowing more weight to be located at the edges, or periphery. As a result, if you don't hit the ball bang out of the sweet spot in the centre of the clubface (and how many of us do?), you will still get a half-decent result. In the dim and distant past almost all clubheads were called blades because they were, in essence, a flat piece of steel and if you didn't hit the ball with precision, you not only had a bad shot but, in all probability, a nasty stinging sensation in your hands. Don't forget aesthetics. You may well keep a set of golf clubs for years, if not decades, so it's important you like the look of them.
Lastly, you may notice that more experienced golfers tend to have a variety of clubs in their bag – woods from one manufacturer, irons from another and all sorts of specialist wedges or utility clubs – but these have often been acquired over many years and after a lot of rounds. For simplicity, clarity and the sake of your pocket, it makes sense when you are starting out to get a set of matched clubs from the same maker; you can always tailor your choices to your specific needs as you gain more experience and ability.
Price
Considering that a driver alone can cost several hundred pounds – up to £530 at the top of the market – we have consciously put together sets of clubs that perform consistently well but do not require you to take out a second mortgage. To buy these components separately would put a major dent in your finances but we feel that these matched sets offer the best value for money.
---
Best Golf Club Sets for beginners
Tour Edge HL4 To-Go Graphite Golf Package Set: £749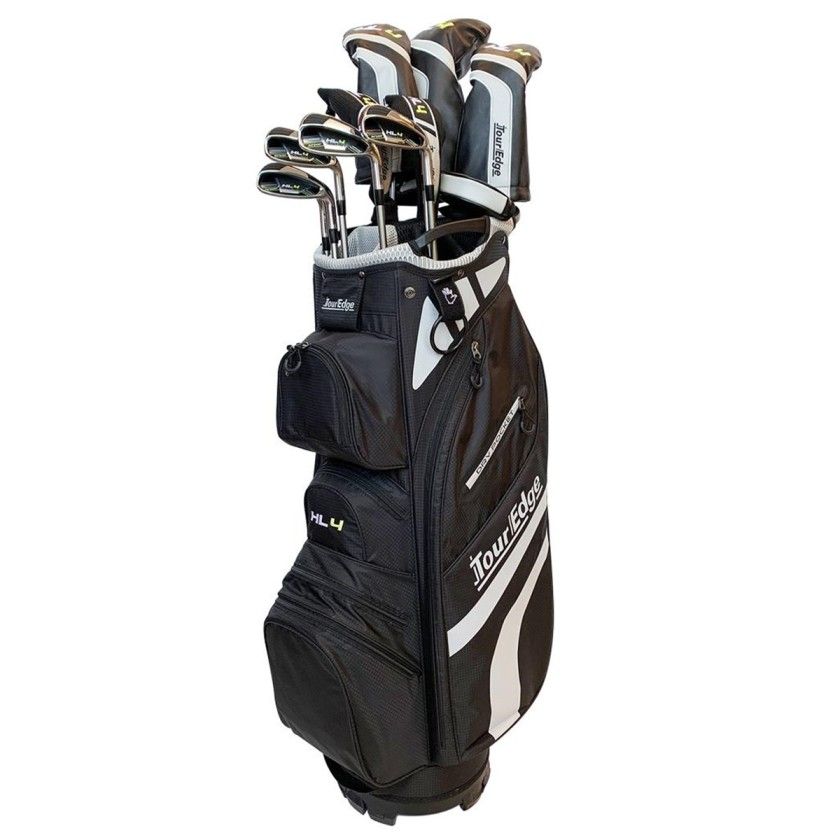 Cavity-back irons
Low centre of gravity for high ball flight
Mallet putter
Gone are the days when you bought irons in a nine-piece set ranging from 3-iron to sand wedge. Longer irons are more difficult to use and therefore, in many instances the 3, 4 or 5-irons have been jettisoned in favour of hybrid, or utility clubs which are, in effect, a wood style head on an iron shaft. They are much easier to hit consistently and therefore breed confidence. This set from Tour Edge consists of a driver, 3&5 fairway woods, 4&5-hybrids (all with protective head covers), 6-PW irons, a super-spin wedge, and a mallet putter. It is difficult to think of a combination that would better meet all the challenges you might find on the course. The high-performance graphite shafts are designed to give you maximum clubhead speed and the cavity backed irons offer excellent consistency, even from miss-hits. It all comes in a bespoke cart bag loaded with enough pockets for all your essentials. Available in right-hand and comes with a one-year warranty.
---
Cobra Fly XL Steel Golf Package Set £599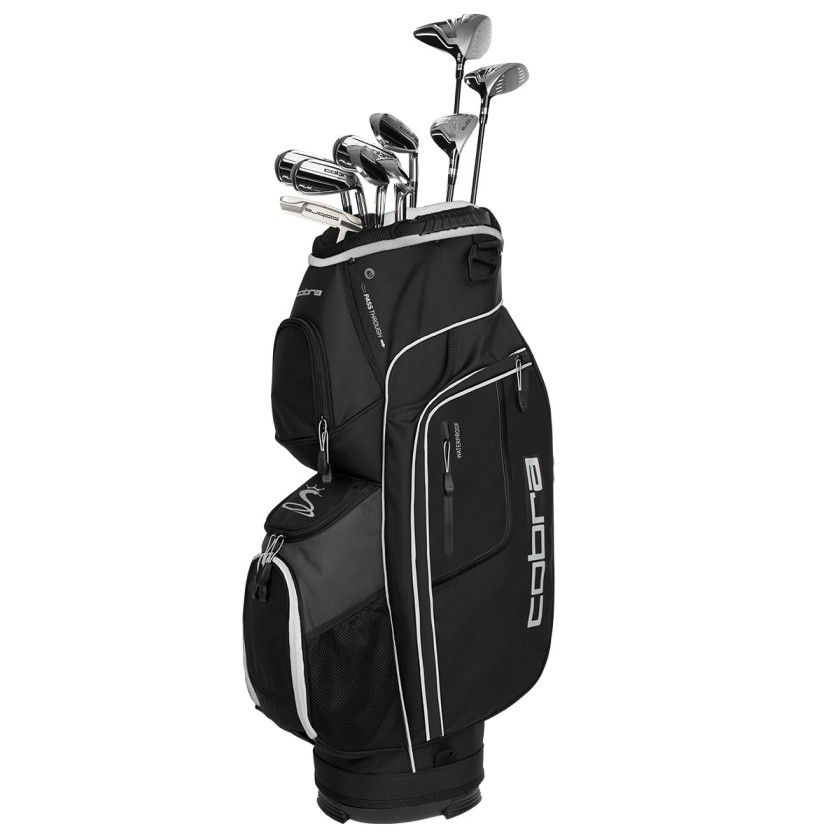 Steel shafts
Superb value
Excellent bag
The Cobra name is one of the most respected in the game and this excellent package is exclusive to American Golf. The Cobra driver has 10.5 degrees of loft and a low centre of gravity, which really gets the ball airborne but on test, crucially, means that you do not lose distance, quite the opposite. A forgiving driver that hits the ball long and straight is every golfer's dream and this Cobra offering delivers in spades. The fairway wood is designed to get the ball airborne from the turf but it is the 4&5 hybrids that are the stars of this set. They sit well on the ground, inspire confidence and launch the ball impressively high and far – these are the clubs you will come to love. They are bolstered by 6-iron-sand wedge and a heel/toe-weighted putter, which means its clubface is less likely to twist offline if you strike the ball slightly outside the sweet spot. All the clubs have precision matched steel shafts and the durable Cobra bag features a 14-way divider so that your clubs do not get tangled up with each other and are easy to remove. It also features a pass-through strap channel to securely lock your bag to your trolley, without blocking any of the pockets. This set is arguably one of the best bargains in golf. Available in right-hand with a one-year warranty.
---
Wilson Deep Red Tour Golf Package Set £449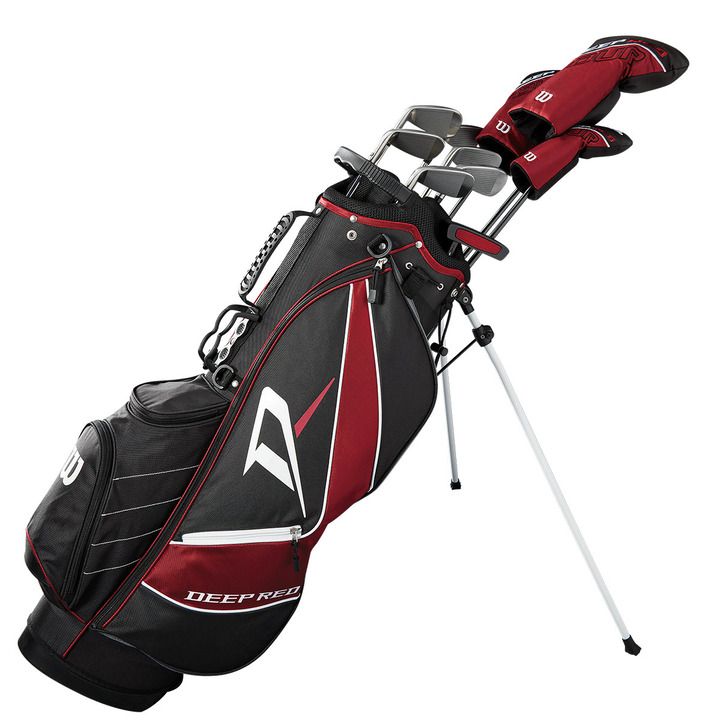 Mix of steel and graphite shafts
Lightweight stand bag
Low centre of gravity for better launch
Wilson has put a lot of thought into creating a package that offers you the best of all worlds – namely, graphite shafts in the woods and hybrid for increased clubhead speed and greater distance (and they come with matching head covers), and steel shafts in the irons to give you consistency and durability. The sand and pitching wedges are not as heavy as some, which is good for novice golfers who want a bit more control. The putter features a polymer insert in the face and a soft paddle grip, both of which give increased feedback through the fingers. The lightweight stand bag, in attractive black and red that matches the head covers, has ample storage space and an integrated self-activating stand. This does not mean, however, that you have to always carry your clubs as it can also be loaded onto a trolley. The set consists of a driver, 3-wood and 5-hybrid, irons 6-sand wedge, putter and bag. It probably has one fewer club than some of the others reviewed here, hence the competitive price. Available in right hand.
---
Benross HTX Graphite Golf Package Set £399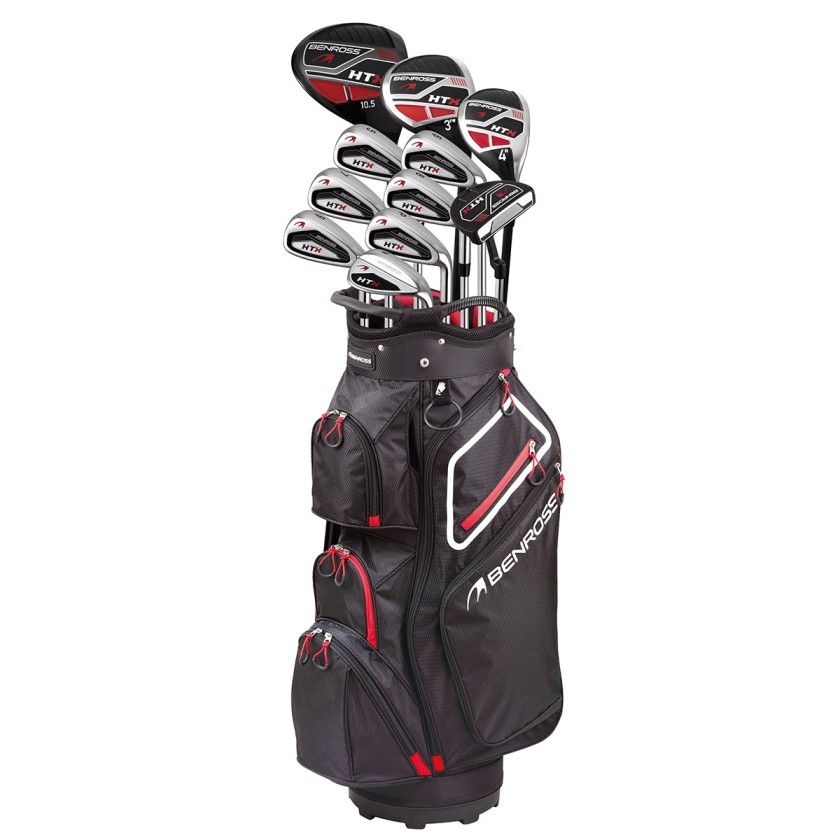 Unbeatable value
16-piece set
Graphite and steel shafts
Benross is not one of the biggest names in golf and was founded in 1997 by Jon Everitt, who wanted to: 'Launch a brand that would produce top quality golfing equipment, without the prohibitive price tag.' It has remained true to this philosophy ever since, having been acquired by International Leisure Brands Limited in 2019, a major international golf business with numerous prestigious golf companies in its portfolio. This Benross set is a 16-piece offering that features two woods and a hybrid, seven irons (5-SW), a putter, three head covers and a rain hood for the bag, all for less than £400. The forged titanium driver is the maximum size allowable under the rules of golf for a bigger sweet spot, the 3-wood features a stainless-steel head, as does the 4-hybrid and all three are fitted with lightweight graphite shafts. The cavity-back irons have steel shafts and the mallet putter has a high moment of inertia, offering greater stability through the stroke and all of them include all-weather grips. The nylon, rain-resistant bag has a 14-way divider system and a dual-lift handle system for easier loading into and out of the car and onto your trolley. Available in right hand with a one-year warranty.
---
Rife RX5 Graphite Golf Package Set £399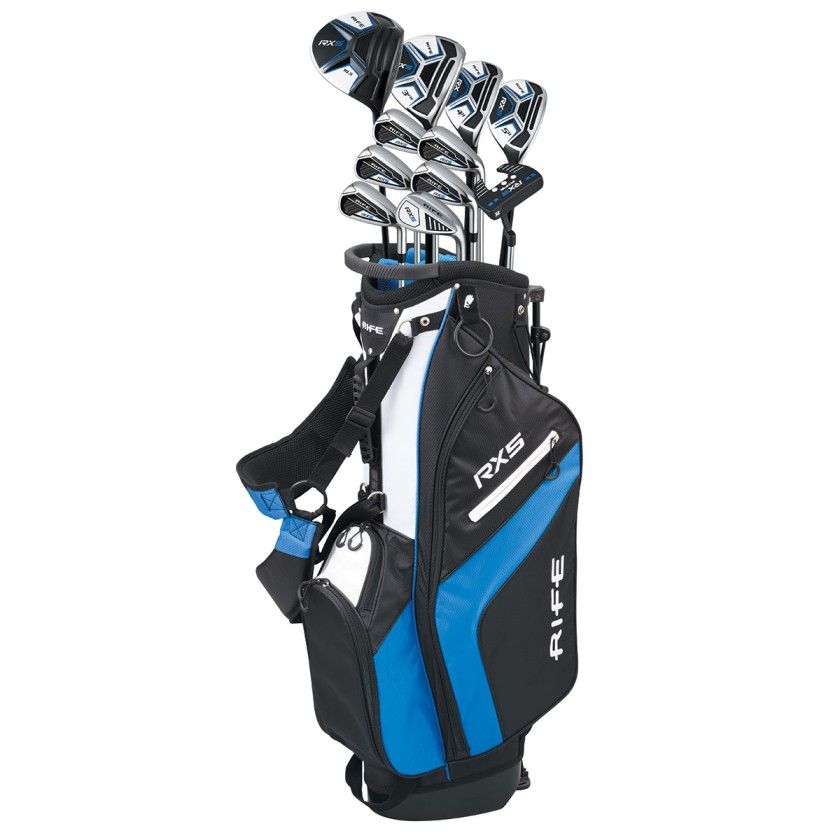 Superb putter
Graphite shafts throughout
Great value
Rife is another company in the International Leisure Brands Limited portfolio and continues the parent company's ambition to produce well-made, quality products at affordable prices. The aerodynamically shaped head profiles of the driver, fairway and hybrid clubs cut through the air to reduce energy loss during the downswing, while the graphite shafts increase clubhead speed, adding distance. The same graphite shafts feature in the irons (6-SW), and the semi-mallet putter would be worth buying as a stand-alone bit of kit. The scooped out back of the clubhead means that the club is toe and heel weighted, which gives control and stability through impact. Even better, it has an oversized grip, which is a feature you may have noticed on the putters of tour pros around the world. Such a grip helps prevent one of the commonest errors on the green, flicking the clubhead at the ball with a wristy motion, which is a sure-fire way to develop inconsistency, so the inclusion of a thicker grip as standard is a thoughtful, valuable addition. The woods and hybrids come complete with head covers and the whole package is contained in a stand bag in blue and white. The set has a one-year guarantee and is available in right and left hand.
---
Wilson Ultra XD Steel Golf Package Set £349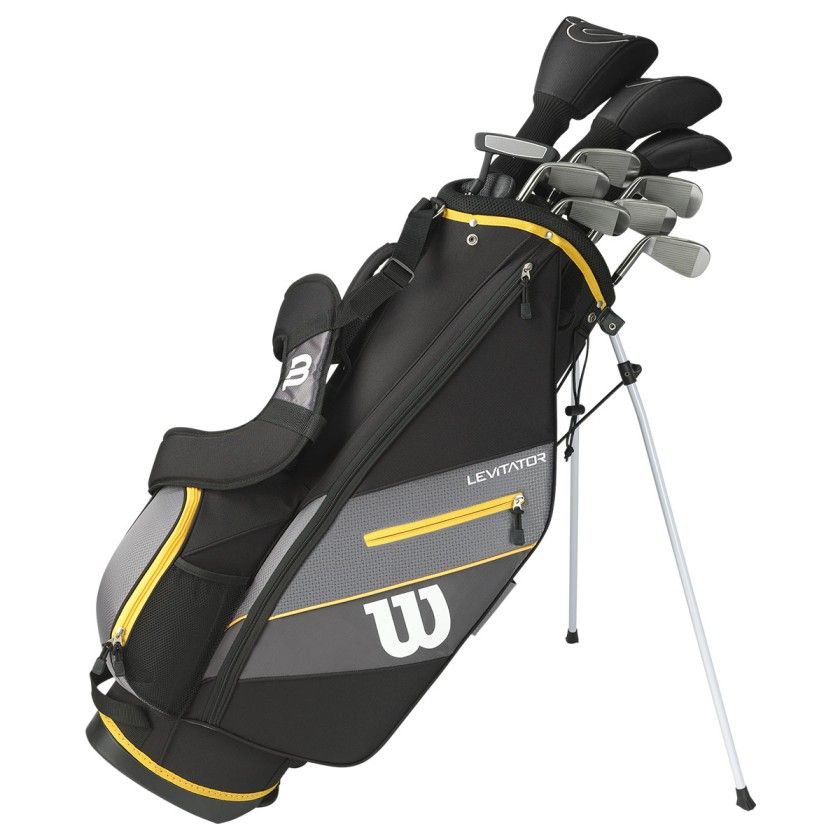 Graphite and steel shafts
Ultra-forgiveness
Top-notch driver
Also available for both left and right-handed golfers, this offering from Wilson is arguably one of the biggest bargains in golf, coming as it does from a brand that offers several all-in-one sets. The Ultra XD is another package in which the woods and hybrid are fitted with graphite shafts, in this instance the Wilson Firestick for extra clubhead speed and distance, while the Wilson irons have steel shafts, offering longevity, consistency and greater feel and feedback. The Firestick, incidentally, is the shaft used by John Daly for many years. The large, offset head of the driver sits beautifully behind the ball and offers bags of confidence. Offset, incidentally, means that the clubface is set a little back from the centre-line of the shaft, allowing a fraction more time for the golfer to square their hands at impact, which makes for a cleaner strike as it reduces the possibility of leaving the clubface open through the hitting zone. For novice golfers the driver can be the most difficult club to hit, but not this offering from Wilson. Also included is a fairway wood, hybrid with a large sweet spot, 6-iron-SW and a classic blade-shaped putter. All are forgiving and easy to play and come with an attractive bag in black, grey and yellow and which can be carried or loaded onto a cart. Comes with a one-year guarantee and available in left or right hand.
---
Fazer CTR25 Graphite Complete Golf Package Set£299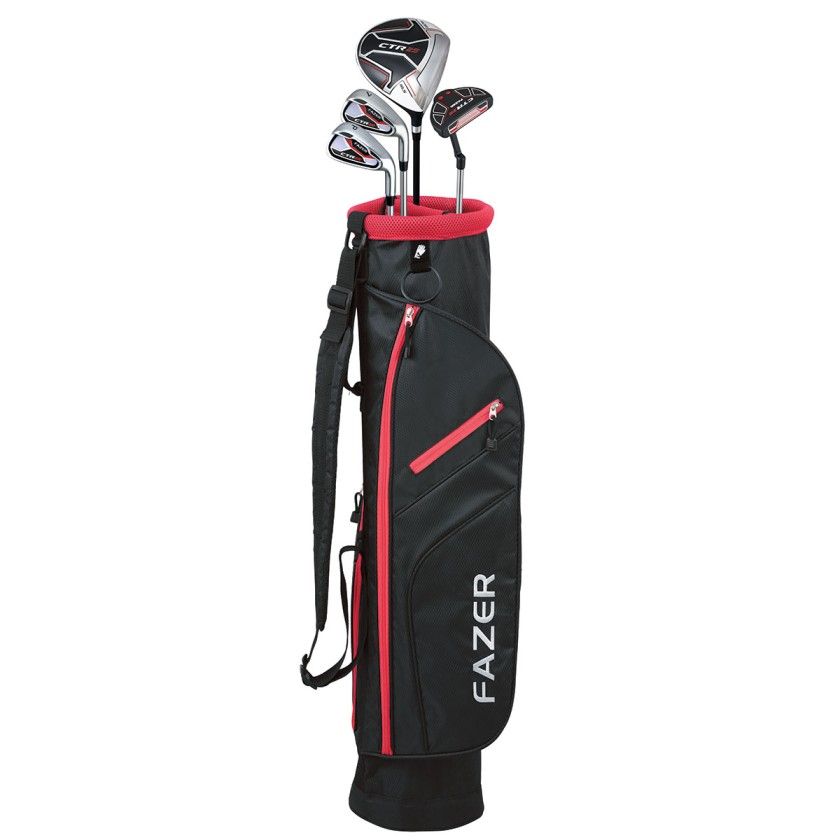 Peripherally weighted
Remarkable value
Graphite shafts throughout
This is another company that strives to offer well-made, playable clubs at affordable prices. Fazer does not have a roster of tour pros using its equipment, nor does it spend fortunes on advertising, promotion and marketing, preferring to let its clubs speak for themselves and for their reputation to spread by word of mouth. As the name suggests, this package comes with graphite shafts throughout, which is a pleasant surprise considering the price. The 10.5 degree loft driver has an oversized 460cc head, the largest allowable under the rules of golf and is accompanied by a fairway wood and hybrid. In a pattern that will by now be familiar, the irons are 6-SW for the simple reason that these are the easiest to hit. The classically styled mallet putter has a milled face insert that improves ball roll. Super slow-mo photography demonstrates that all putters cause the ball to jump forward before hitting the ground and rolling so any putter that gets the ball rolling quicker will be more efficient. Available in left and right hand and comes with a one-year warranty.
---
Spalding Tour Steel Golf Package Set £269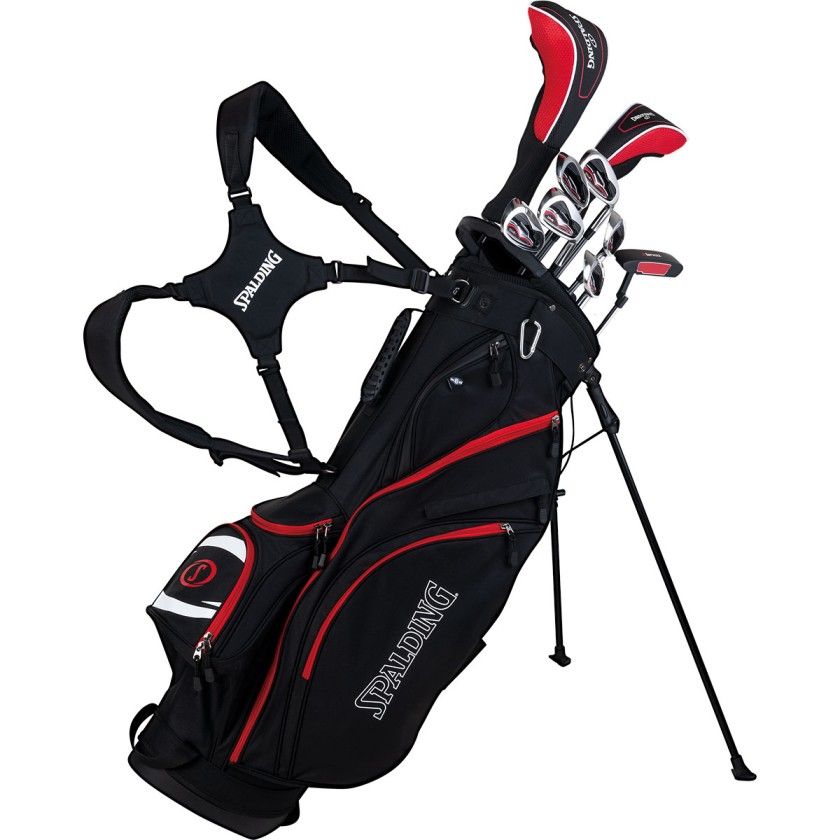 Graphite and steel shafts
Oversize irons
Excellent distance and forgiveness
This is a 12-piece set, featuring at least one club less than most, which is part of the reason why it can be offered at such a reasonable price. It is nevertheless an option worth considering to start you on your journey to improved golf. A company that started making golf clubs in 1900 would be expected to be involved in a great deal of innovation and product development yet Spalding was never really interested in the pro tours, instead directing its focus to the man in the street so as to offer decent equipment at a fair price. This set contains a driver and hybrid with graphite shafts and head covers, 6-iron-SW fitted with steel shafts, putter, lightweight stand bag and it all comes with a one-year guarantee. The oversized stainless-steel irons offer superior distance and forgiveness because they help the golfer make solid, accurate shots. They are highlighted with a premium finish for long-lasting looks and performance. The driver and hybrid's aerodynamically-shaped heads are designed to cut through the air more efficiently and this, coupled with their low centre of gravity and graphite shafts, deliver explosive performance from both the tee and turf. The lightweight bag has a dual-strap system, essential to protect your back and comes in a stylish black and red design. Available right hand only and comes with a one-year warranty.
---
Fazer CTR25 Starter Golf Package Set £129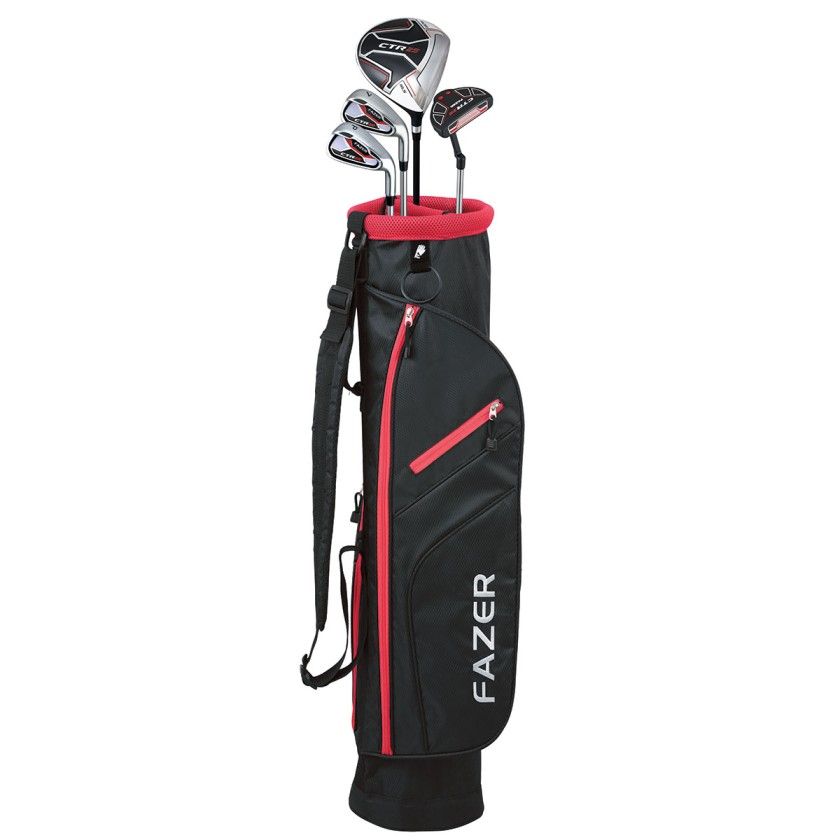 Ideal novice set
Optimal kick point driver
Mallet putter
Finally, we look at a starter set, perhaps for the youngster in your life who might, through the fickleness of youth, decide to give the game up in two months' time. Alternatively, it might be for you or someone you know who is interested in golf but not yet convinced it's the game for them. And of course, they may start with a basic set but over time this can be added to as budget and need allows. 'Basic', however, does not mean poor quality because the components from Fazer include a hyper steel cast driver with a graphite shaft, steel-shafted 7-iron and pitching wedge, a mallet putter and a pencil carry bag – so called because it is small, thin and light. During winter many golfers take part in four-club competitions which, as the name suggests, means they can only carry four bits of kit and they often find they score just as well as when carrying a full complement of 14 clubs in their bag so don't be put off by the limited number in this set. This Fazer driver has 10.5 degrees of loft, which is the standard throughout these sets, and an optimal kick point shaft. All shafts flex during the swing and the kick point determines the point at which it bends the most. For most handicap golfers a low kick point (nearer the clubhead) is desirable because it promotes a steep launch angle and higher ball flight. The irons feature an oversize head of hyper steel and the heel-toe weighted mallet putter has a target sightline for improved alignment. Available in right hand.
---
About the Author
Martin Vousden - Golf Writer
Vousden bio
Martin Vousden joined Today's Golfer in 1988 as a staff writer and quickly rose to become editor; under his stewardship it became Britain's best-selling golf title. He then became launch editor of Golf Buyer and Swing magazines, before moving to Scotland to take over at ScottishGolf. After five years he became (and remains) a freelance journalist, having written for numerous titles, including Golf Monthly, Golf Punk and The Clubhouse, which is based in Malaysia. He lives in Angus, about 12 miles from the Carnoustie course that beats him up every time he plays it, so he joined Kirriemuir GC. His handicap of 19.3 rises inexorably with every passing year.
Martin's golf bag contains:
Ping G400 driver
King Cobra F/Speed 3-wood
Kane Golf 5-wood
Callaway Big Bertha 7-wood
Wilson D9 irons, 5-gap wedge
Yonex Z-Force sand wedge
John Letters Golden Goose lob wedge
Putter: GEL Ruby or Odyssey 2-ball blade (depending on which is behaving itself)
TaylorMade Distance Balls (yellow, just because he likes the colour)