CHECK OUT THE NEW DUCA DEL COSMA GOLF SHOE RANGE AT AMERICAN GOLF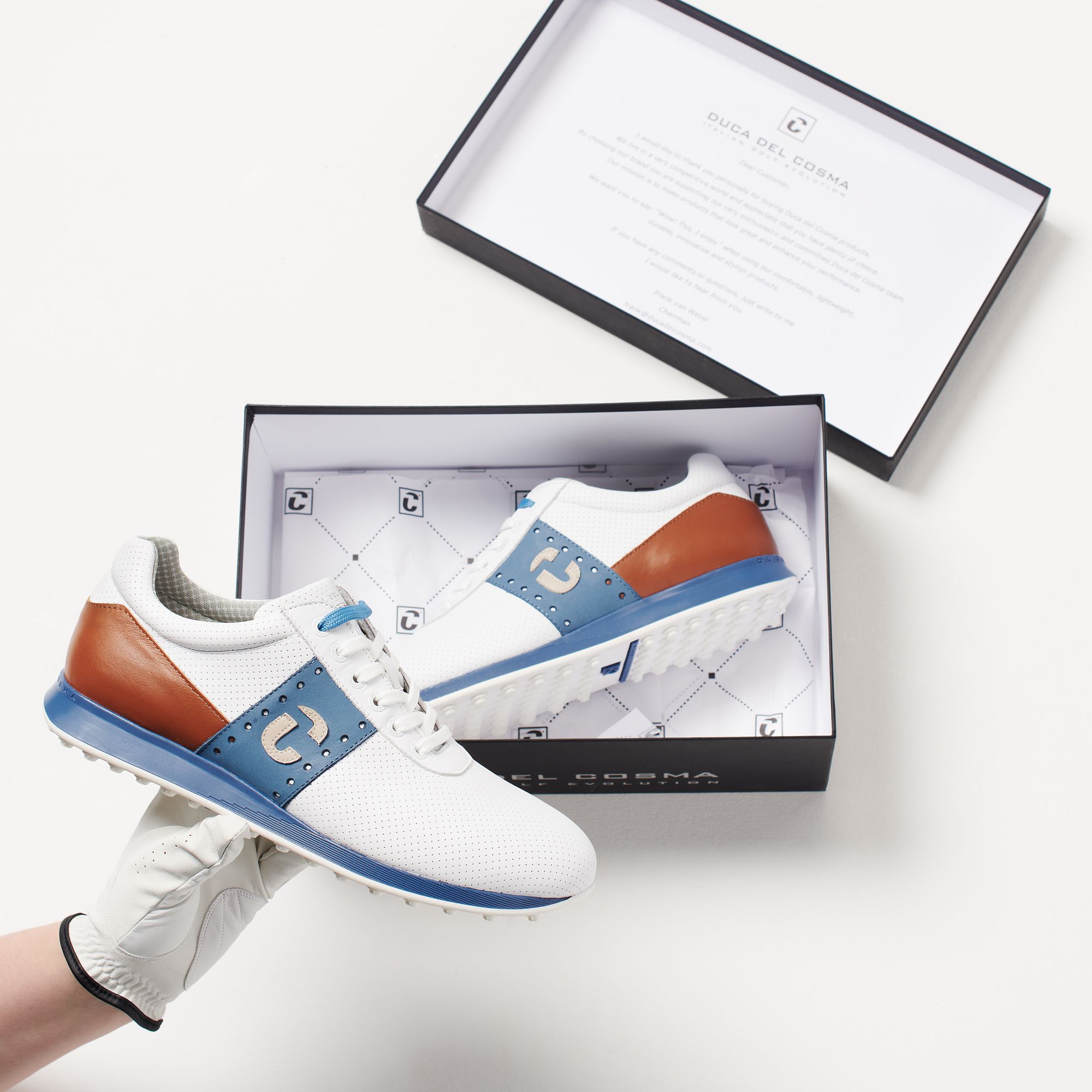 We're excited to announce that here are American Golf we are stocking the latest Men's styles from Italian fashion brand- Duca del Cosma, the Italian golf fashion brand that produces its stylish shoes in Europe, has now made its latest models available to golfers shopping at the highest footfall stores operated by American Golf, Europe's largest golf retailer.

A selection from the brand's handcrafted SS21 Men's collection are on display at eight leading American Golf stores across the UK, including the retailer's recently refurbished flagship facilities at Trafford Park, New Malden and Milton Keynes.
They include the new spikeless KINGSCUP style in Grey, Navy & White, the ELPASO in White, the KUBA 2.0 in the Italian national colours of White/Green/Red, the VALDERAMA in White, plus the popular BELAIR in Navy & White/Cognac.
The shoes feature a mix of top quality Nappa leather and soft recyclable microfibre; a waterproof Sock System with OnSteam® recyclable microfibre; Duca Cor Linza MTP 2.5mm Aqua stop lining; breathable ARNEFLEX® insert sole and heel support with recycled cork; plus Airplay outsoles designed for functional stability throughout the swing. Each pair comes with a second lace colour to match up with different outfits.

"Gaining display space for so many of our latest Men's shoes in such high-profile American Golf stores is a real feather in the cap for the Duca del Cosma brand," said Tony Eccleston, UK & Ireland Sales Director. "It demonstrates just how far the product styling has come on in recent times, as well as recognition of the build quality in Europe that ensures we can meet orders in good time and deliver premium golf shoes at attractive price points for UK golfers," he added.
Commenting on adding the brand to its extensive line up of golf shoe options, Iember Gordon, Head of Marketing at American Golf said: "There's no doubt that the shoes from Duca del Cosma add another dimension to the impressive choice available to our customers, as golfers increasingly look for comfortable, fashionable spikeless shoes that can be worn both on and off the course."

American Golf currently operates 98 stores in the UK and Republic of Ireland and continues to grow. It offers both Men's and Ladies' shoes from the Duca del Cosma range on its website at www.americangolf.com.
CHECK OUT THE NEW DUCA DEL COSMA GOLF SHOE RANGE AT AMERICAN GOLF